University of Utah Impact Scholars
University of Utah Impact Scholars include distinguished scholars and public intellectuals chosen for their ability to contribute to an exceptional student experience, engage with and inform local policymakers, participate in joint research opportunities, and consult with U leadership on societal impact.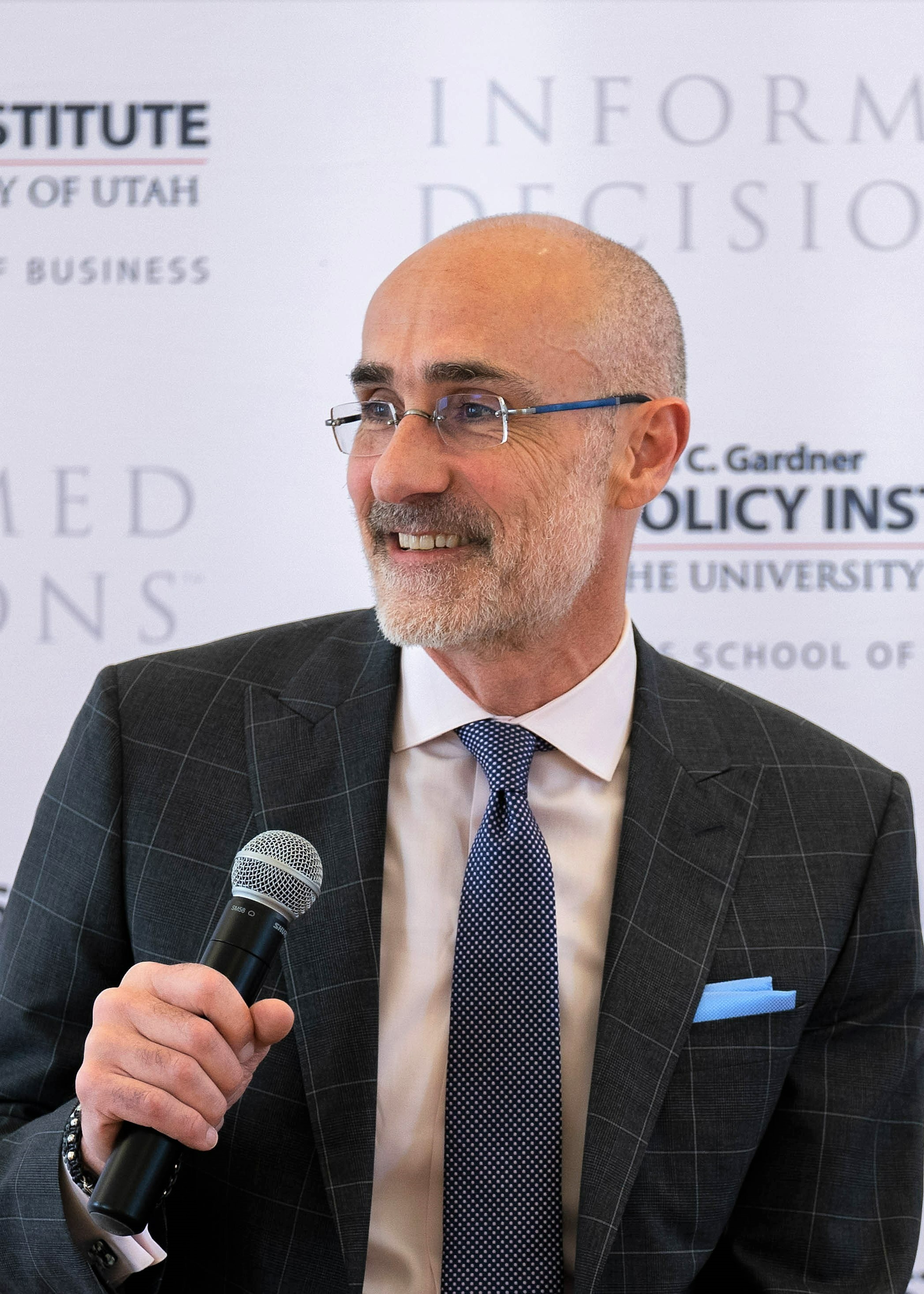 Arthur C. Brooks is the William Henry Bloomberg Professor of the Practice of Public Leadership at the Harvard Kennedy School, and Professor of Management Practice at the Harvard Business School, where he teaches courses on leadership, happiness, and social entrepreneurship. He is also a columnist at The Atlantic, where he writes the popular "How to Build a Life" column.
Brooks is the author of 12 books, including the 2022 #1 New York Times bestseller From Strength to Strength: Finding Success, Happiness, and Deep Purpose in the Second Half of Life. He speaks to audiences all around the world about human happiness, and works to raise well-being within private companies, universities, public agencies, and community organizations. Brooks began his career as a classical French hornist, leaving college at 19, touring and recording in the United States and Spain. In his late twenties, while still performing, he returned to school, earning a BA through distance learning. At 31, he left music and earned an MPhil and PhD in public policy analysis from the Rand Graduate School, during which time he worked as an analyst for the Rand Corporation's Project Air Force, performing military operations research analysis. Brooks then spent the next 10 years as a university professor, primarily at Syracuse University, where he taught economics and nonprofit management, and published 60 peer-reviewed articles and several books, including the textbook "Social Entrepreneurship" (2008).
In 2009, Brooks became the president of the American Enterprise Institute (AEI) in Washington, DC, one of the world's most influential think tanks. Over the following decade, he was selected as one of Fortune Magazine's "50 World's Greatest Leaders" and was awarded seven honorary doctorates. He was named an Impact Scholar at the University of Utah in 2022.
Originally from Seattle, Brooks currently lives outside Boston, with his wife Ester Munt-Brooks, who is a native of Barcelona. They have three adult children: Joaquim, Carlos, and Marina.
Dr. Brooks was named a University of Utah Impact Scholar in 2023.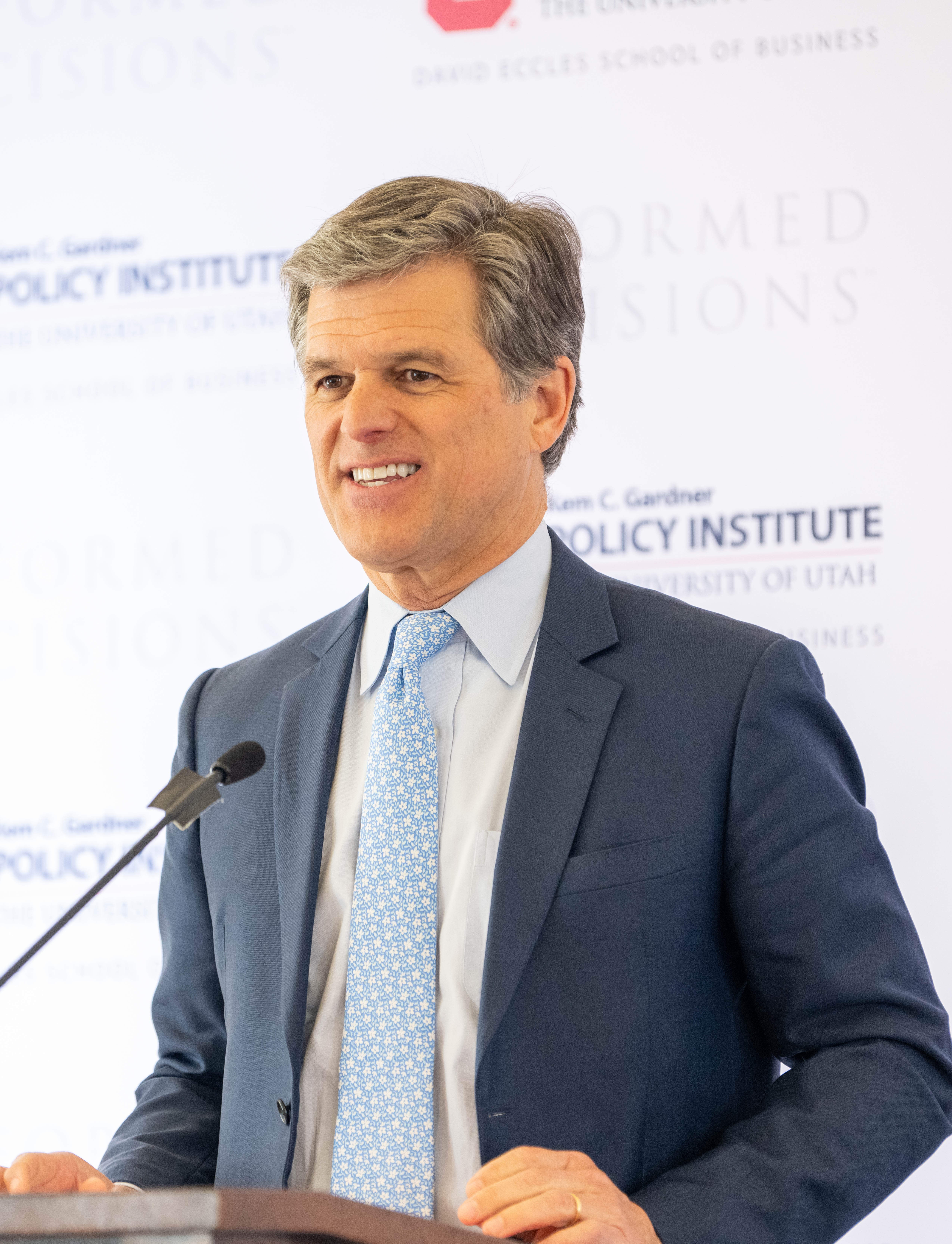 Tim Shriver is a husband, father, educator, best-selling author, and the Chairman of the Special Olympics. In that capacity, he has driven the largest expansion of the organization, growing the movement from one million athletes to over six million athletes in 193 countries around the world. He is also the co-founder and Chair of UNITE – an initiative to promote national unity and solidarity across differences.
Shriver has harnessed the power of Hollywood to challenge unconscious bias and share stories of inspiration, executive producing several films including Amistad, The Loretta Claiborne Story, The Ringer, Front of the Class, and The Peanut Butter Falcon. 
Shriver earned his undergraduate degree from Yale University, a Master's degree from Catholic University, and a Doctorate in Education from the University of Connecticut.  Before joining Special Olympics in 1996, Shriver co-founded and currently chairs the Collaborative for Academic, Social, and Emotional Learning (CASEL), the leading school reform organization in the field of social and emotional learning (SEL).
In 2018, he began asking new questions–how could SEL skills like empathy, self-awareness, and perspective-taking help the country? How could the example of the athletes of Special Olympics provide a model for a divided world? Hundreds of young people, faith leaders, educators, philosophers, scientists, activists and political figures have joined the conversation. Shriver and his team at UNITE are now building the dignity initiative – a movement to ease division, prevent violence, and solve problems by reducing the contempt in our political and public discourse and treating everyone with dignity.
Dr. Shriver was named a University of Utah Impact Scholar in 2023.