By Eric Albers and Heidi Prior
On May 18, 2023, the Census Bureau released population estimates for incorporated places (cities and towns) and housing estimates at the state and county level for July 1, 2022. This blog presents several noteworthy items from this most recent release. For a more detailed look at the data, see this fact sheet.
Utah Highlights
The Census Bureau's most recent estimates capture how Utah's small area and housing unit growth compares to the rest of the country.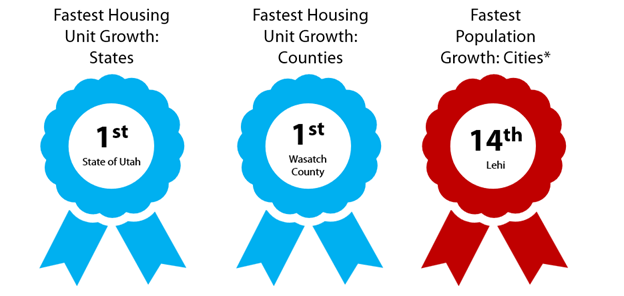 * Among cities with populations over 50,000 on July 1, 2021
Utah Leads the Nation in New Housing
Housing units grew modestly nationwide between 2021 and 2022, with Utah having the fastest housing unit growth for the second year in a row. Utah added 38,876 new units, increasing its housing stock by 3.3%. Utah and Salt Lake counties contributed over half of this growth.
Wasatch County's housing unit growth was the fastest in the United States, increasing 7.7%. Utah (5.4%), Washington (4.7%), Box Elder (4.3%), and Tooele (4.1%) counties also experienced rapid growth in housing units.
Chart-Topping Growth in Some Cities, Population Declines in Others
Lehi was the 14th fastest-growing large city (population 50,000+ in 2021) in the U.S., increasing 5.6% between July 1, 2021, and July 1, 2022. Although smaller in total population, Saratoga Springs and Eagle Mountain exceeded both Lehi's absolute increase and growth rate. Many of Utah's smaller cities and towns also grew quickly, with Hideout, West Haven, Tremonton, and Santaquin growing more than 10%.
Top 10 Places with Highest Absolute Population Growth, 2021-2022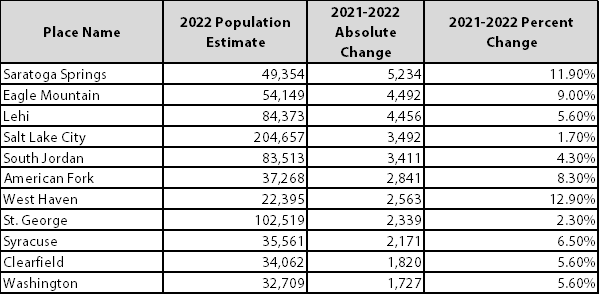 Source: U.S. Census Bureau, Population Division, Vintage 2022
A total of 47 places in Utah experienced population declines between 2021 and 2022. Cities that experienced the largest absolute decreases include West Valley City (-2,415), Orem (-2,240), Sandy (-2,054), Provo (-1,380), and Taylorsville (-1,372).
On a national scale, Taylorsville (-2.3%), Orem (-2.3%), and Sandy (-2.2%) ranked in the top five for lowest growth rate among large cities. Many of Utah's smaller cities and towns experienced similar rates of decline, including Monticello, Blanding, Sunset, and Fruit Heights.
Utah Places (population 1,000+) with Fastest Population Declines, 2021-2022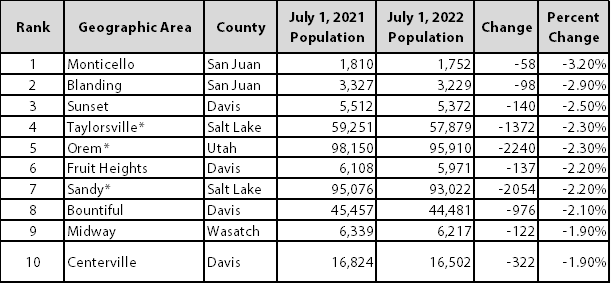 * Ranked in the 10 Fastest Declining Cities (50,000+) in the United States between July1, 2021 and July 1, 2022.
Source: Source: U.S. Census Bureau, Population Division, Vintage 2022 Population Estimates
For additional insights into all the Census Bureau 2022 estimate releases, visit the fact sheets for the county and metropolitan and micropolitan areas (add link). The Census Bureau estimates are updated annually, reflecting July 1 of the previous year. The final release of the 2022 series includes age, sex, and race, and is scheduled for release in June.
Eric Albers and Heidi Prior are Public Policy Analysts at the Kem C. Gardner Policy Institute.