By:  DJ Benway
Since 2010, Utah has led the nation in population and job growth.  This growth has put tremendous pressure on our state's housing market.  Every Utahn interacts in some way with the housing market, whether we are renters, homeowners, first-time homebuyers, or none of the above; all Utahns are affected by the housing market. Panelist Dan Lofgren, President and CEO of Cowboy Partners, expressed this sentiment during the Informed Decisions Seminar on housing affordability at the Kem C. Gardner Policy Institute on Tuesday, May 1.  Alongside Lofgren were panelists Clark Ivory, Chief Executive Officer of Ivory Homes, and James Wood, Ivory-Boyer Senior Fellow at the University of Utah.
As the accompanying report "What Rapidly Rising Prices Mean for Housing Affordability" shows, Utah has a housing shortage.  Three examples from the data include: from 2011 to 2017, 50,833 fewer housing units permits have been issued than new households formed, apartment vacancy rates are at historic lows (as low as 2.4 percent in Weber County in 2017), and single family homes are listed for the fewest cumulative days on market (an average of only 15 days in Salt Lake County in 2017).
Utah Housing Units vs. Household Growth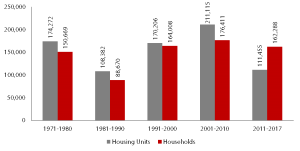 Source: U.S. Census Bureau and Ivory-Boyer Construction Database
Meanwhile, Utah ranks the fourth highest in the nation for growth in home prices, increasing on average four percent per year since 1991 (compared to 1.5 percent nationally).  The Salt Lake City metropolitan area has experienced a 304 percent increase in median sales price of homes through 2017, ranking seventh in the nation.  Provo-Orem ranks 12th.
The rising price of homes coupled with the undersupply of new housing units has created a housing shortage in the state, particularly in the more urban areas of the Wasatch Front.  Some factors affecting affordability noted by the panel included the increased cost of producing new homes, rising interest rates, and lack of affordable housing supply. Additionally, housing prices have grown at twice the rate of incomes.
As James Wood emphasized, the most affected populations are those below the area median income who face increasing rents and lack adequate housing options.  More than one in five Utah households below the median income face a severe housing cost burden where 50 percent or more of their income is spent on housing costs.  In contrast, those above the median income are 32 times less likely to be severely cost burdened.  As Dan Lofgren noted, when Utahns are spending so much money on housing, they are spending less elsewhere in the economy.  This can affect economic markets as well as family and educational outcomes of these impacted Utahns.
Percent of All Households with Severe Housing Cost Burden by Income in Utah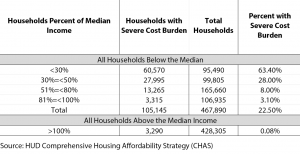 Many factors contribute to the current housing market conditions in our state.  Clark Ivory outlined the five critical challenges builders are facing today: 1) rising interest rates, 2) policies and ordinances that hinder the growth of a mix of housing options, 3) rising land costs, 4) the rising cost of skilled construction labor and its short supply, and 5) the rising cost of materials.  While Clark Ivory does not believe we are currently in a crisis, and the market for single-family homes in the state remains healthy, he notes these challenges tend to constrict new housing growth.  However, Utah can take a progressive approach to the tight housing market to plan infrastructure, labor, and housing policy now to maintain a healthy housing market into the future.  As he stated "gradualism is key."
As moderator Dean Taylor Randall quipped about a statistic from the study: if the current trend continues, in 26 years (one demographic generation) the median home price in the Salt Lake and Provo-Orem metropolitan areas would reach $1.3 million.  While James Wood notes this is a simple extrapolation and unlikely to become a reality, all members of the panel agreed on the need for immediate action to mitigate increasing housing burdens.  The panelists noted that the current housing market and future challenges are not due to Utah's strong economic or demographic growth, and that it is not simply a housing industry problem, it is a Utah problem that needs to be addressed collectively.
DJ Benway is a research analyst at the Gardner Policy Institute.