November 23, 2021 (Salt Lake City) – Following a long career of service to the State of Utah and University of Utah, Dr. Pamela Perlich will retire as Director of Demographic Research at the Kem C. Gardner Policy Institute effective December 2021. Mallory Bateman, Senior Research Associate and State Data Center Coordinator, will serve as Director upon Dr. Perlich's retirement.
Formerly, Dr. Perlich worked as a senior research economist with the Bureau of Economic and Business Research (BEBR), which was merged into the Gardner Institute in 2015. Prior to joining BEBR, she worked in the Utah Governor's Office of Planning and Budget, concentrating on long-run economic and demographic projections. Although trained as an economist, she has applied a multidisciplinary approach to develop data, modeling and analysis that identifies ongoing demographic, economic and cultural transformations. The focus of her work has been to illuminate these trends and the associated implications for the future, especially as they impact Utah. Her work highlights the great diversity in our communities and how these change over time.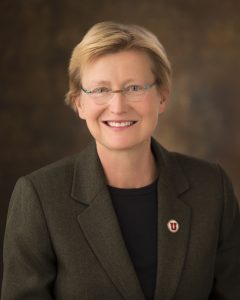 Dr. Pamela S. Perlich
"On behalf of our entire community I extend appreciation to Pam for her extraordinary research and service to the State of Utah and the University of Utah," said Natalie Gochnour, Director of the Gardner Institute. "Pam's considerable research, policy, and communication skills defined what many call the 'New Utah.' In doing so, she inspired students, other researchers, and community leaders to honor and serve the rich diversity of current Utahns and prepare for future generations of Utahns."
Mallory Bateman will now serve as the Director of Demographic Research at the Gardner Institute. Prior to this appointment, Ms. Bateman served as a Senior Research Analyst and Bureau of the Census State Data Center Coordinator at the Gardner Institute. Her expertise includes urban planning and demographics, including recent research on generations in Utah, households, commuting patterns, and fertility. Ms. Bateman helped lead 2020 Census efforts for Utah, and serves on the national State Data Center Steering Committee and the American Community Survey Data Users Group Steering Committee. She will continue in these roles in her new position.
"What a joy and privilege it has been to serve the people of this great state these past three decades. It has been fascinating to focus my research on the dynamics of Utah's growth and change.  I have especially enjoyed the opportunity to connect my work with that of so many others in the community and the University," said Perlich. "I am proud to have been among the founding directors at the Gardner Institute, which has an outstanding team. I also extend special appreciation to our amazing demographic research team. I have full confidence that under Mallory's leadership, the demographic team will continue to excel."
Following retirement, Dr. Perlich will continue to serve as a Senior Advisor to the Gardner Institute.
###