By: Pamela S. Perlich
New estimates released today by the Bureau of the Census indicate that Utah's Hispanic population has reached 411,143 by July 1, 2015. This means that about 1 out of every 7 Utahns (13.7 percent) is Hispanic or Latino, and greater than 1 out of every 5 new Utahns (22.8 percent) since the 2010 Census count is Hispanic. This population is young, with an estimated median age of 24.4 years old, compared to 30.7 years old for the state as a whole.
These same estimates indicate that the share of the Utah population who are minorities (anyone except those who identify as White and not Hispanic) also continued to increase to greater than 1 in 5 Utahns (21 percent) and account for 4 out of every 10 new Utahns since 2010. Nearly two-thirds (65.4 percent) of Utah's estimated minority population are Hispanic or Latino.  All of the race and ethnic groups considered here have consistently increased since 2010. Non-Hispanic Whites have grown by the largest absolute amount in 2010 (140,730), but at the slowest rate (6.3 percent).
Non-Hispanic Asians, Utah's second largest minority population, added 16,177 persons since 2010 to reach 70,971 by 2015. Considering all race and ethnic groups tracked in these estimates, this population, which grew by 29.5 percent since 2010, outpaced the growth rates of all other groups. Data from the American Community Survey indicates that, especially since 2010, individuals migrate from Asia to Utah in larger number than from Latin America. This shift occurred with the onset of and recovery from the Great Recession.

[i]

The third largest minority group in Utah is the non-Hispanic multi-race population, which increased to 58,267 in these estimates. It is the second most rapidly growing population, having increased by 24.9 percent since 2010. It is also the youngest, with a median age of 16.8 years old.  This is a national trend in which our youth are increasingly from mixed heritage parents.

As has been the case for Utah especially since the 1990s, youth are more diverse than adults. Minorities are 19 percent of the adult (18 years and older) population compared to 25.6 percent of youth (younger than 18 years old). The increasing diversity of the Utah population is a generational shift, with changes most concentrated in our young populations.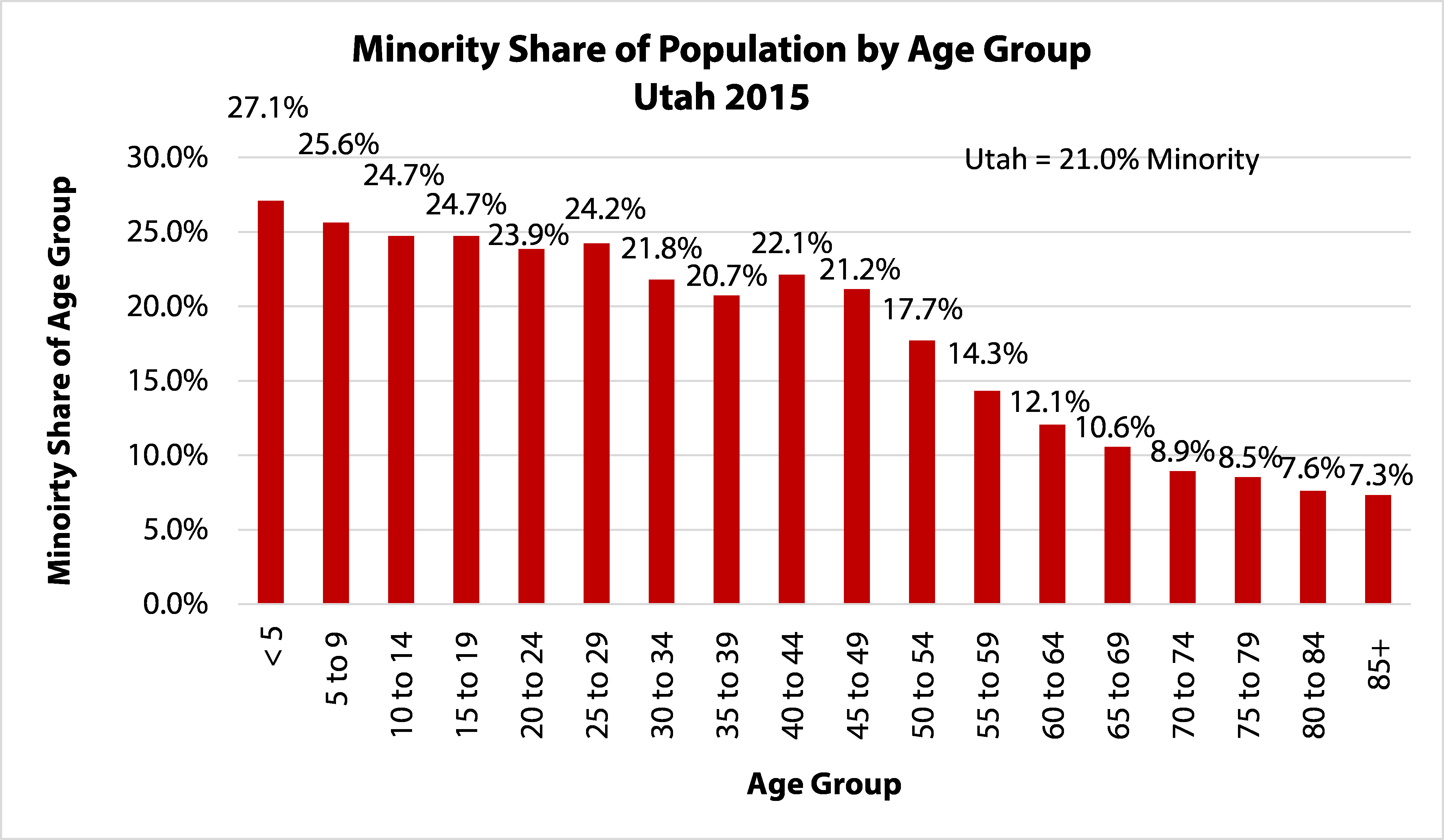 These data confirm that Utah maintains many of its signature demographics, but these are diminishing over time as it becomes more like the nation: more diverse and older. Importantly, these changes are occurring differently across the state, among communities, and across generations. Given occupational, residential, socioeconomic, and generational spatial segregation, it is quite possible that these vast demographic changes may not be visible to many in their daily lives.

Highlights of these estimates are explained in Fact Sheet: Race and Ethnicity in Utah: 2015

[i] U.S. Census Bureau, 2010-2014 American Community Survey 5-Year Estimates, Table S0502: "Selected Characteristics of the Foreign-Born Population by Period of Entry into the United States," downloaded June 22, 2016.

Dr. Pamela Perlich is the director of demographic research at the Kem C. Gardner Policy Institute.