By: Kaitlin Eskelson, President & CEO, Visit Salt Lake
Note: The opinions expressed are those of the author alone and do not reflect an institutional position of the Gardner Institute. We hope the opinions shared contribute to the marketplace of ideas and help people as they formulate their own INFORMED DECISIONS™.
Salt Lake is a continually evolving city, one that's growing and becoming more metropolitan, while keeping our pioneering roots. Salt Lake is so much more than what people expect. It's a place where diverse pastimes, cultures and landscapes come together in our modern mountain hub of the West. There's something for everyone in our amazing urban basecamp. Our vibrant downtown is just 10 minutes from the new SLC International Airport and just 35 minutes to world class mountain recreation.
What Visit Salt Lake does for Salt Lake
Visit Salt Lake (VSL) is a private, non-profit corporation responsible for the promotion of Salt Lake as a convention and travel destination. In partnership with Salt Lake County, Visit Salt Lake improves the area economy by attracting and providing support to conventions, leisure travelers and visitors with a strong commitment to sustainability and stewardship of the area's natural environment.

Value of Tourism
Conventions, meetings, and leisure travelers have a remarkable impact on our economy. After shuttering the Salt Palace in 2020 and eventually reopening to meetings after serving as a Salt Lake County vaccination site, VSL has rebounded and just recorded our best booking year ever. We booked 196 meetings, conventions, and sports events that will occur in 2023 and beyond. Those events will generate approximately 888,973 room nights, which is 24% more than were booked in 2021 and is 13% above our 2022 goal. Convention district hotel's average daily rates rebounded above 2019 levels in 2022, signaling the rise of our industry's recovery.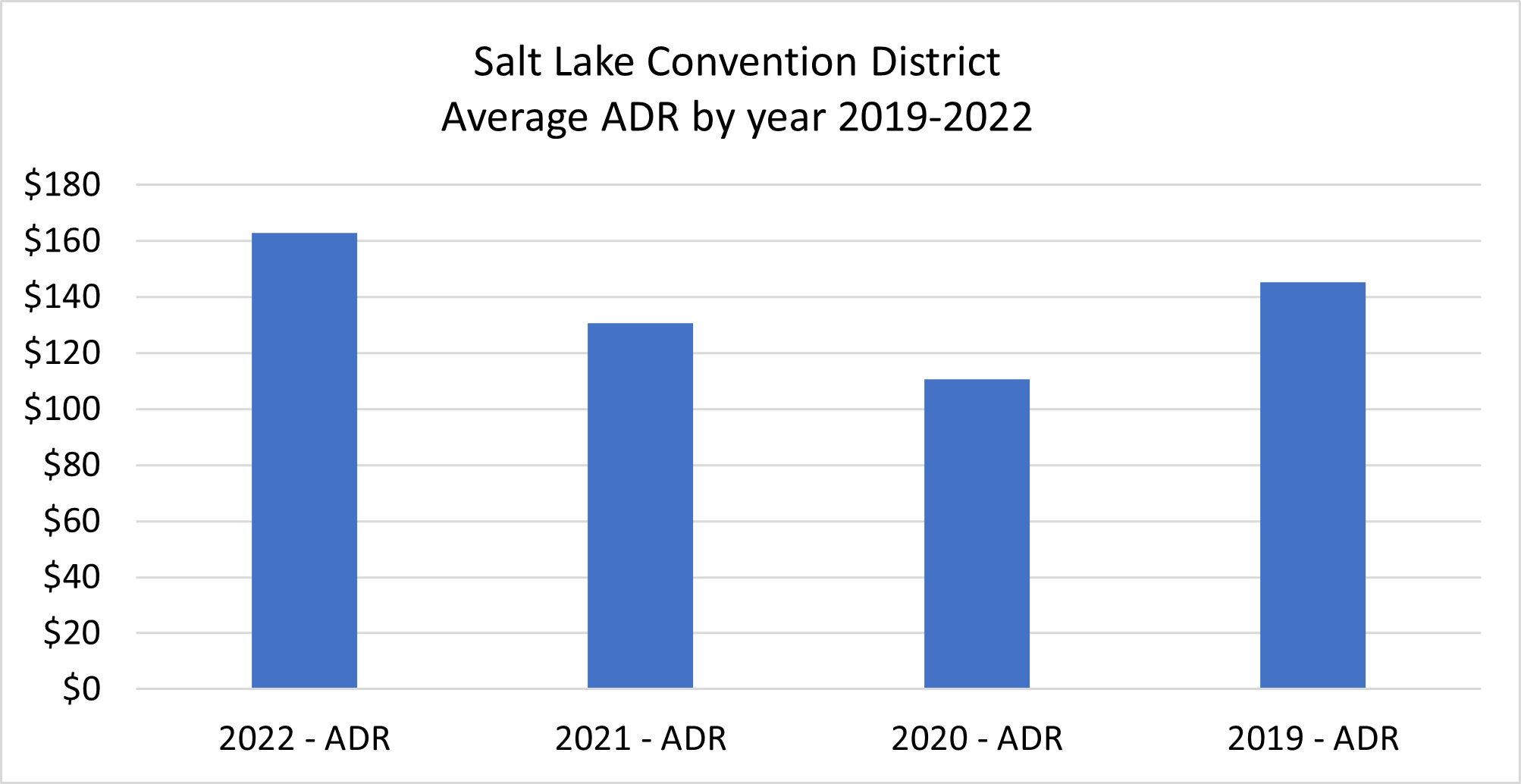 Source: Kem C. Gardner Policy Institute analysis of Tourism Economics and Utah State Tax Commission data
New and returning conventions and events, such as Sundance and Outdoor Retailer (OR) have a dramatic impact on our economy. For instance, over the course of 20 years OR has generated more than $565 million in direct delegate spending.
Our partnership with the Kem C. Gardner Policy Institute is key to our ability to translate our convention and visitor traffic into data about tax revenues generated, the overall economic impact of travel and tourism and more, and helps us to not only make a case for the overall benefits to our residents, but also guides our strategic plans and decisions moving forward.

Source: Kem C. Gardner Policy Institute analysis of Tourism Economics and Utah State Tax Commission data
Through robust sales and marketing programs, Visit Salt Lake has a dramatic effect on Salt Lake's annual $4 billion visitor economy that represents nearly 40% of the state's $10+ billion visitor economy. Just to give you a small idea of return on investment, in 2021, VSL spent $12 million and booked events that will bring more than 615,000 attendees and 716,000 room nights, equating to $378 million in direct visitor spending to Salt Lake. And that doesn't begin to count the leisure business we generate and the business that comes from repeat visits.
With a dramatic increase in community and professional sporting events coming to Salt Lake, our new Sports Salt Lake division has proven to be a market leader with a focus on this rapidly growing facet of Salt Lake's visitor economy. Our Sports Salt Lake team is making a meaningful impact on our visitor economy as their event bookings spread out the economic benefit to all of Salt Lake County. They accounted for nearly 30 percent of Visit Salt Lake's entire bookings for 2022.
Upcoming conventions and sporting events we're looking forward to welcoming include the Rock 'N' Roll Running Series, the return of the popular Salt Lake Criterium cycling race, and numerous medical and association meetings and events. Outdoor Retailer has enlarged their contract to five years and three shows a year and we look forward to welcoming them again in June and again in November.
Visit Salt Lake and the global tourism industry had a lot to celebrate in 2022 with the return of travel at scale. And our organization is excited to continue to pursue record growth in the visitor economy in the coming years bolstered by population and business expansion, tourism development, and attracting major events like the 2030/34 Winter Olympics.