By: Jennifer Leaver
Utahns know what makes our state special: majestic mountain ranges, red rock deserts, slot canyons, the Western Hemisphere's largest saltwater lake, world-class winter sports, blue-ribbon trout streams—the list goes on. Did you know that Utah's natural amenities are the number one draw of domestic nonresident visitors? And that each year, out-of-state visitors spend more money in Utah's economy than do resident travelers?
According to Omnitrak's 2018 domestic traveler survey, last year a third of Utah's domestic nonresident visitors came from the five states of California, Nevada, Idaho, Colorado, and Texas. Nearly half (44 percent) of all domestic travelers were Utahns—or those who traveled at least 50 miles one-way within the state. The vast majority (91 percent) of all domestic visitors drove to or within Utah and stayed at their destination(s) an average of 3.4 nights.
Share of Total Domestic Visitors by State, 2018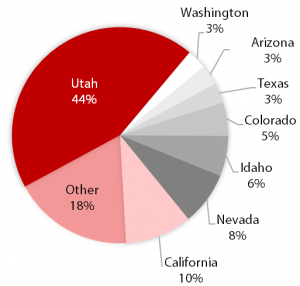 Source: Omnitrak
After crossing into Utah, over a third of nonresident travelers visited Salt Lake City and a quarter visited St. George. Other popular destinations were Zion/Springdale, Cedar City, Provo/Orem, Park City, Ogden, Logan, Bryce Canyon, Moab, and Kanab. Resident Utah travelers were more likely than nonresidents to visit the Provo/Orem area and Davis County's Lagoon Amusement Park (a local favorite).
Domestic Nonresident vs. Resident Traveler Destinations, 2018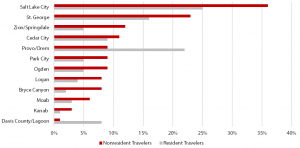 Source: Omnitrak
The most popular activities, reported by one in four nonresident travelers, were visiting Utah's national parks and monuments, and rural sightseeing. Likewise, one in five nonresidents visited a state park or monument, and one in seven participated in hiking or backpacking. In contrast, resident travelers spent less time visiting Utah's parks and engaging in rural sightseeing, and more time visiting friends and family.
Domestic Nonresident vs. Resident Traveler Activities, 2018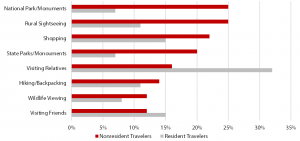 Source: Omnitrak
However, according to Omnitrak, all domestic travelers—resident and nonresident—who participated in "visiting friends and family" in Utah spent less money per trip than those who participated in adventure sports, outdoor recreation, and park visitation. Domestic visitors that participated in "sports and recreation" spent an average $1,070 per trip, while those who visited friends and family spent an average $467. For context, "sports and recreation" activities included ATV riding, boating, biking, fishing, golfing, hunting, snowmobiling, playing tennis, and attending pro and amateur sporting events. Likewise, domestic visitors who participated in Utah "adventure sports" (e.g. hiking, backpacking, canyoneering, mountain biking, rock climbing, skiing/snowboarding, whitewater rafting, kayaking, etc.) spent an average $880 per trip and those who visited "parks and gardens" spent $867 per trip. So, not only did domestic nonresident visitors participate more often than residents in outdoor-focused activities in 2018, they also spent more money doing so.
Turns out, we Utahns aren't the only ones who know what makes our state special—so do Californians, Nevadans, Idahoans, and travelers from all over the U.S.! In fact, when nonresident visitors spend their out-of-state dollars to experience Utah's stunning parks and plethora of outdoor recreation opportunities, our natural assets become economic assets.
Jennifer Leaver is the senior tourism analyst at the Kem C. Gardner Policy Institute.