By: Mike Hollingshaus
Utah's population is getting older—the percentage of children is getting smaller, and the percentage of elderly Utahns is growing. When I tell people this, they often ask: "but doesn't Utah have the youngest population in the country?" The answer is "yes, and it probably will for a long time." Even so, the average age of the population is steadily rising.
What do the data say about the future of Utah's aging population? And what does this mean for housing policy and planning decisions? The answers to these questions help us prepare for the Utah of the future.
What Do the Data Say?
Right now, about one in 10 Utahns is 65 or older. The Kem C. Gardner Policy Institute projects that by 2065, that number will be one in five. This translates to over one million retirement-aged Utahns by 2065.
Some of this growth will occur rapidly as the Baby Boom generation reaches retirement age, and will proceed in waves. Figure 1 shows forecasts of the Utah population 65 and older, focusing on different age groups.
Figure 1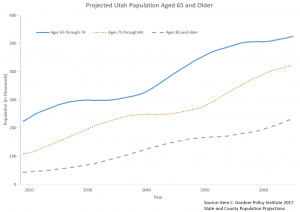 Baby Boomers are defined as those born between 1946 and 1964. They started turning 65 in 2011, and the youngest Boomers will reach that age in 2029. So, growth in the 65-74 age group should slow down around 2030. But, the growth will pick up again as the children of Baby Boomers start turning 65. Similar ripples can be seen in other age groups, but in later years. This illustrates how closely our aging population is tied to the Baby Boom.
But Baby Boomers are only part of Utah's aging story. People are also living longer. In 2010, Utah life expectancy was 82 years for women and 78 for men. In 2065, we project those numbers to be 86 for women and 85 for men. Utahns are also having fewer children. In 2010, the average Utah woman was expected to give birth to about 2.5 children throughout her life.  By 2017, that number was 2.1—a significant decline over seven years.
Retirement migration is another part of Utah's aging story. In southwestern Utah, planners have capitalized on the warm climate to attract wealthy older adults. Many other migrants who were originally born in Utah will return home to be closer to family. And yet, many older Utahns will still decide to remain in communities they have long called home.
What Should We Plan For?
Retirement-aged Utahns contribute much to our communities. One in five are in the labor force, directly contributing to economic growth. But official statistics only measure part of a state's productivity. Senior citizens often contribute to their communities through volunteer work in the arts, churches, and political organizations. They also spend time caring for grandchildren and mentoring others. Service offers the dual benefits of helping people live healthier, longer lives, while also helping the surrounding community.
But, in order to contribute, people must be in a position to do so. This requires first having basic needs met. People need good health, along with stable and affordable housing. The Census Bureau estimates only 40 percent of retirement-aged Utahns have retirement income—another symptom of rising income inequality. About one third of retirement-aged Utahns suffer from disability. Age-related conditions such as Alzheimer disease create unique challenges for caregivers who assist older Utahns live the fullest lives possible.
Older Americans traditionally live in small households, but this might be changing. Multi-generational households are becoming more common. Many middle-aged families simultaneously care for children and aging parents. Extended family living arrangements may also be more common for people with different ancestries, ethnicities, and racial identities.
As Utah continues to grow and build, turning the challenges of aging into opportunities requires careful planning. Developers may want to consider whether their plans are sufficiently diversified to meet the needs of people of all ages, abilities, and household situations. Housing the aging population requires special attention to affordability, public transportation, and proximity to excellent health care facilities.
An Exciting Future Awaits
Exciting and challenging times await Utah. The aging population is here, and growing every day. Utah has a strong history of data-based planning, and I believe the state will meet the challenge head-on. Within each challenge lies a golden opportunity, and we should prudently consider how our new demographics can benefit the beautiful state we call home. As the poet Robert Browning exclaimed: "Grow old along with me! The best is yet to be."
Mike Hollingshaus is a demographer at the Kem C. Gardner Policy Institute.