By: Jennifer Leaver and Casey Hansen
Note: The opinions expressed are those of the author alone and do not reflect an institutional position of the Gardner Institute. We hope the opinions shared contribute to the marketplace of ideas and help people as they formulate their own INFORMED DECISIONS™.
Carbon and Emery Counties are considered "Coal Country" in Utah. While the region's mines and power plants have provided economic opportunities to residents for generations, the counties are looking to diversify their economic portfolios as the energy sector pivots away from coal. In light of the recently announced expedited closures of both coal power plants in the region, as well as the release of the IPCC climate report,[i] the topic of diversifying the region's economy is as salient as ever.
Coal Country's tourism sector is one avenue that offers promise. In 2018, the Coal Country Synergy Team (formerly the Coal Country Strike Team) identified tourism and recreation as one of several economic growth and development opportunities in the Coal Country region. The region's five state parks, ATV and biking trails in and around the San Rafael Swell, the "world's largest art gallery" (Nine Mile Canyon), Historic Helper, and world-renowned rock-climbing mecca, Joe's Valley, offer a particularly enduring draw to the region. These unique offerings differ from the popular areas in and around Utah's "Mighty 5" national parks, making them great options for those looking for less crowded and more rugged outdoor experiences.
In fact, the region's tourism sector performs relatively well compared to the rest of the state, particularly post-pandemic. While the Coal Country region experienced transient room tax (TRT) collection declines in 2020 similar to statewide trends, the region experienced TRT increases above the state average in 2021 and 2022 (Figure 1).
Figure 1: Percent Change in County Transient Room Tax (TRT) Collection vs. 2019 Baseline Collection
Source: Kem C. Gardner Policy Institute analysis of Utah State Tax Commission data
It is important to note, however, that the TRT increases may not necessarily indicate visitation increases when considering recent inflationary headwinds. As such, it is helpful to look at occupancy and visitation rates for the same period as well. Carbon County's hotel occupancy rates trended just below statewide rates from 2019 through 2022, though Carbon County occupancy rates exceeded pre-pandemic levels a year earlier than the statewide rates (Figure 2).[ii]
Coal Country's average short-term rental occupancy rates trended above statewide rates from 2020 to 2022 (Figure 3). Although both Coal Country and statewide short-term rental occupancy rates declined in 2022, the region's occupancy rates remained higher than pre-pandemic rates while the statewide rates dropped below the 2019 baseline. The fact that Coal Country's short-term rental listings grew 108.8% from 2019-2022 compared with a 34.3% increase statewide is also impressive (although they started from a smaller base).
Figure 2: Average Hotel Occupancy Rates, 2019-2022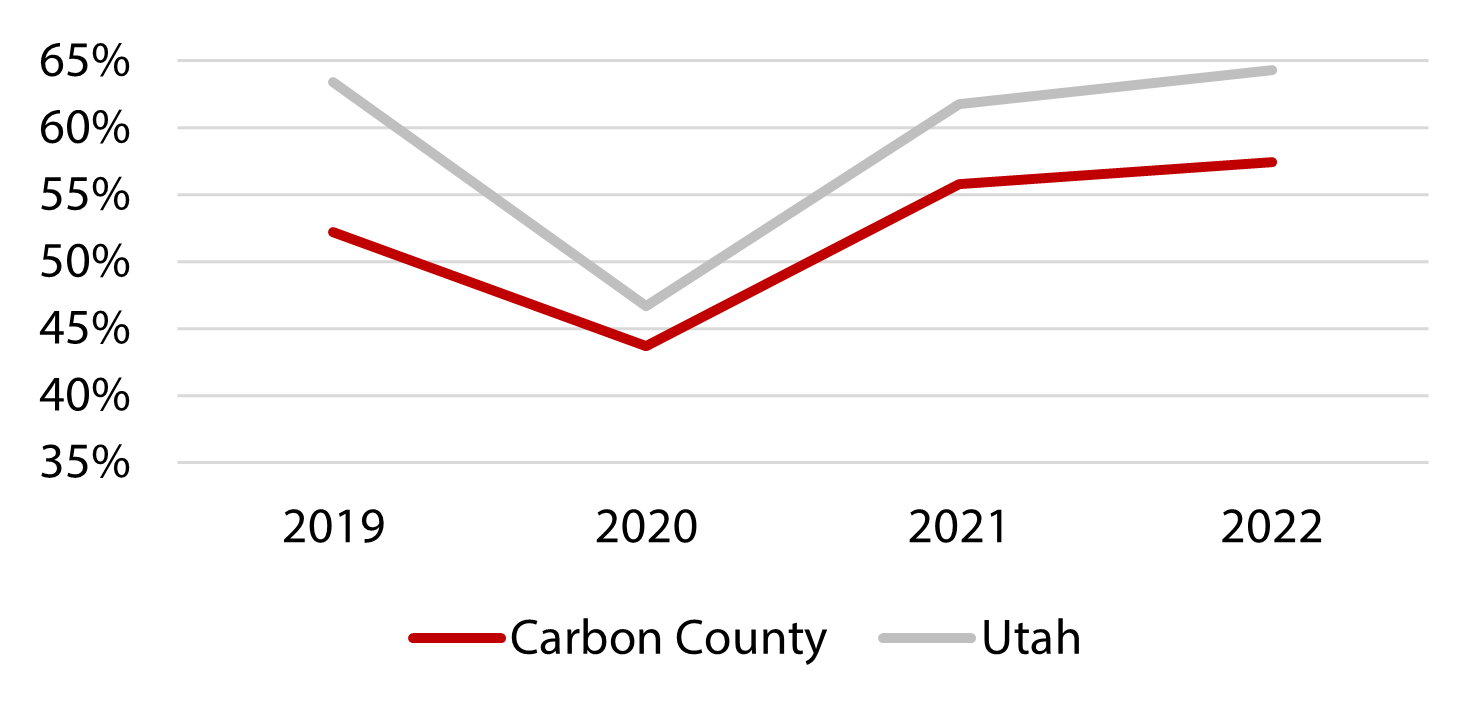 Source: Kem C. Gardner Policy Institute analysis of STR, Inc., and Transparent data
Figure 3: Average Short-Term Rental Occupancy Rates, 2019-2022
Source: Kem C. Gardner Policy Institute analysis of STR, Inc., and Transparent data
Finally, while Utah's state parks experienced healthy visitation increases over the past several years, they experienced year-over decreases in 2022. Coal Country state park visitation increases consistently trailed statewide trends since 2018; however, the region's five state parks experienced greater year-over visitation increases than all Utah state parks in 2021 and smaller year-over visitation decreases in 2022 (Figure 4).[iii]
Figure 4: Year-over Percent Change in State Park Visitation, 2018-2022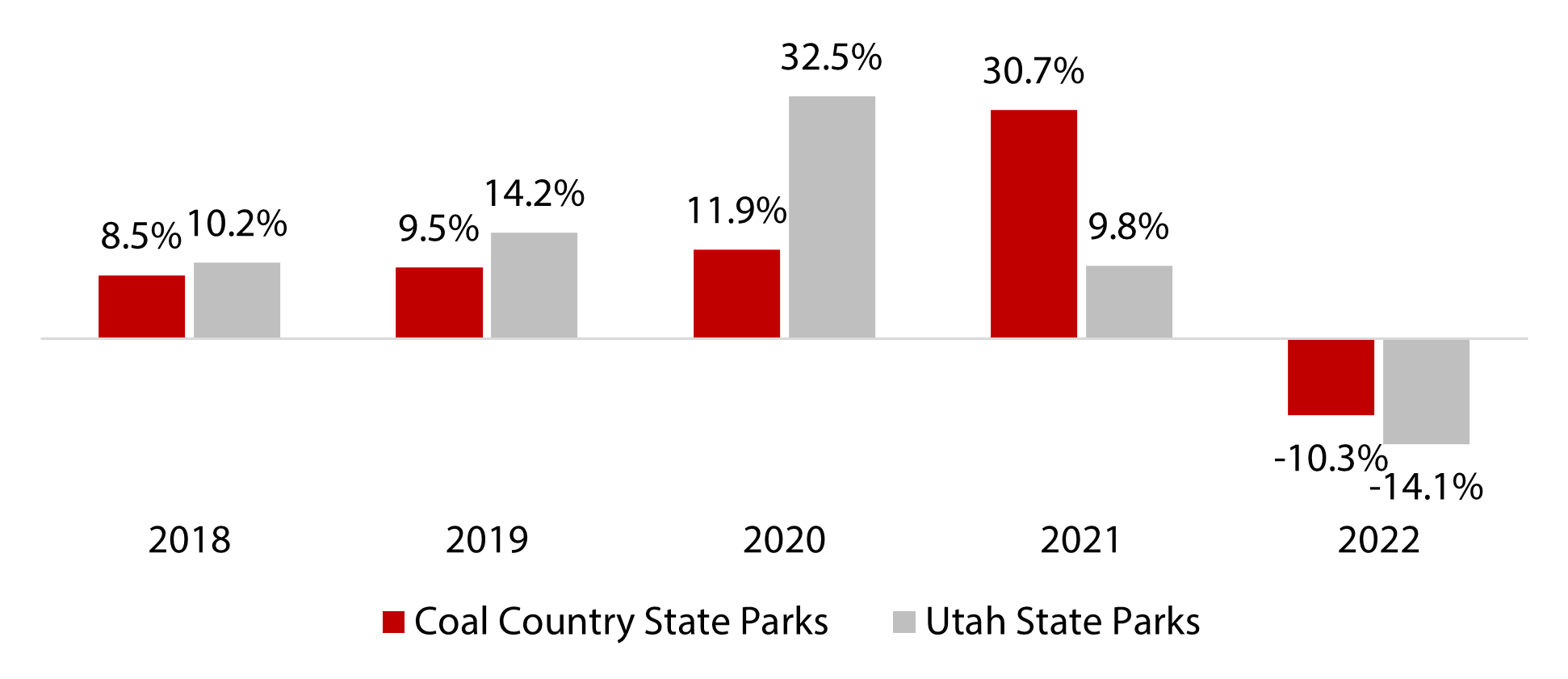 Source: Kem C. Gardner Policy Institute analysis of Utah State Park data
Utah is a rapidly growing state with diverse and unique landscapes that attract tourism. Given this, it is eye-catching that Coal Country has stronger TRT growth rates, short-term rental listing and occupancy growth rates, and percent changes in state park visitation in the past few years. These trends offer hope for economic growth and diversification in Coal Country—and if these trends persist, travelers looking to escape crowds would be wise to enjoy the area sooner rather than later.
Jennifer Leaver is the senior tourism analyst at the Kem C. Gardner Policy Institute and specializes in local, regional, and statewide tourism research.
Casey Hansen is a senior at the University of Utah, former Gardner Policy Institute intern, and campaign strategist for Clean the Darn Air. He will be studying energy policy at Johns Hopkins University in the fall.
[i] IPCC stands for the Intergovernmental Panel on Climate Change. See https://www.sltrib.com/renewable-energy/2023/03/31/end-utah-coal-power-sight-rocky/ and https://www.theguardian.com/environment/2023/mar/20/ipcc-climate-crisis-report-delivers-final-warning-on-15c
[ii] Emery County hotel occupancy data for this time period is unavailable.
[iii] Coal Country state parks include Green River, Goblin Valley, Huntington, Millsite, and Scofield.