By: Dejan Eskic
Note: The opinions expressed are those of the author alone and do not reflect an institutional position of the Gardner Institute. We hope the opinions shared contribute to the marketplace of ideas and help people as they formulate their own INFORMED DECISIONS™.
Utah's capital city has seen tremendous growth over the last several decades. Along with record increases in apartments, office, industrial, and retail space has also experienced major growth. The Kem C. Gardner Policy Institute recently published a report highlighting the historic supply and recent demand drivers for commercial real estate in Salt Lake City.
Over the last several decades, the development of Salt Lake City transformed a booming town into the epicenter of the crossroads of the west. As of the 1950s, the city had 6.3 million square feet each of industrial and retail space and 7.0 million square feet of office. Fast forward to 2018. Industrial space has increased to 78.8 million square feet, office to 34.7 million square feet, and retail to 19.6 million square feet (see Figure 1).
Figure 1: Cumulative Commercial Square Feet in Salt Lake City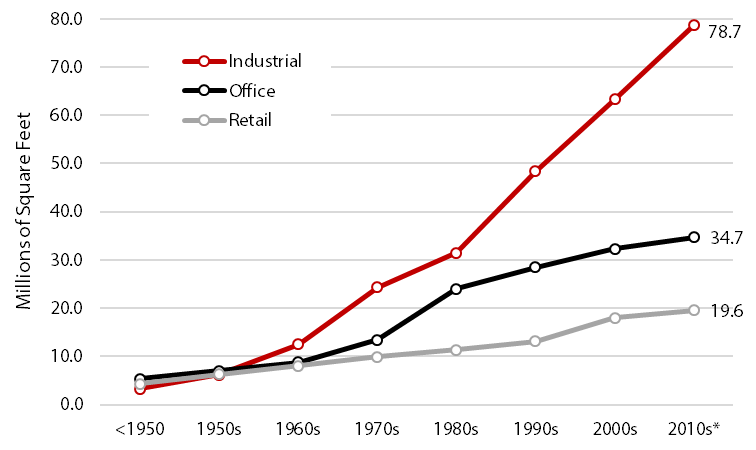 * Through 2018
Source: Salt Lake County Assessor
Throughout the 2010s, Utah's economic growth led to record employment, which drove the demand for commercial real estate development. Salt Lake City's employment grew from 235,404 in 2010 to 282,436 in 2018, adding 47,032 jobs, an increase of 16.7%. Office-using jobs increased 21.6% during this period, adding 16,731 jobs and accounting for 35.6% of the city's total job growth. Industrial-using jobs jumped 22.3%, adding 15,562 jobs representing 33.1% of the city's growth. Retail-using jobs grew 28.7%, adding 11,685 jobs accounting for 24.8% of growth (see Figure 2). These three commercial real estate sectors account for 93.5% of the jobs added in Salt Lake City between 2010 and 2018. Although employment in these sectors grew at similar rates, industrial square footage grew much faster so as to meet the changing market demand for square feet per employee.
Figure 2: Jobs Categorized by Property Type, Salt Lake City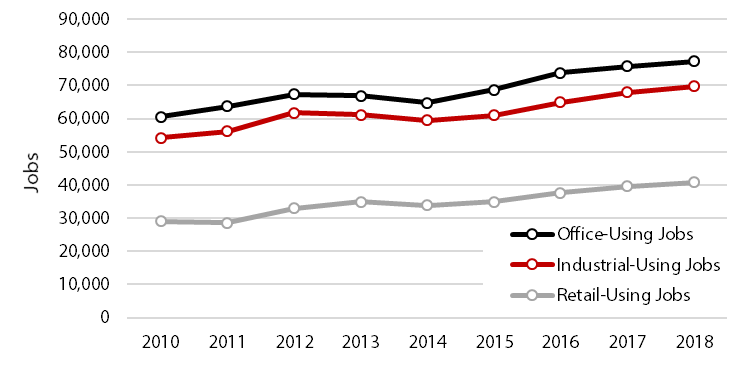 Source: Kem C. Gardner Policy Institute analysis of Utah Department of Workforce Services data and US Census Bureau LEHD data
Much like the state's economy, those jobs driving the demand for commercial real estate are just as diverse. Between 2010 and 2018, professional, scientific, and technical services held 24.0% of all office-using jobs, the largest share. This sector added 4,059 jobs in the same time period, a 27.9% increase. Industrial-using jobs were driven by manufacturing, which added 6,299 jobs between 2010 and 2018, a 26.8% increase. And retail jobs grew by 11,685 over the period, an increase of 28.7%, driven by retail trade and food services.
The study does not reflect the impacts of the COVID-19 health pandemic. Retail has been severely impacted and many stores are closing their doors for good. This will create new opportunities for that space. The industrial sector is in high demand as we've accelerated our shift to online shopping even further. The office sector is likely to experience a demand surge for some, as more space is required for social distancing, and a decrease for others, as the shift to remote work becomes more common.
Dejan Eskic is a senior research analyst at the Kem C. Gardner Policy Institute.