By: Jennifer Leaver
A recent Headwaters Economics (HWE) study found that during the Great Recession recovery (2010–2016), rural U.S. counties with recreational assets—or "recreation counties"—attracted new residents, reported higher incomes, and generated faster earnings growth compared with rural non-recreation counties.[i]  Specific report findings include:
Rural recreation counties gained 1 person per 1,000 residents while rural non-recreation counties lost 20 people per 1,000 residents.
The average annual income of households moving into rural recreation counties was $8,700 higher than those moving into rural non-recreation counties.
Recreation appears to draw tourism-related businesses and attract new residents who may be business owners, entrepreneurs, or workers.
Of Utah's 29 counties, HWE identified 14 as "rural" and defined nine of these as "recreation counties" (see Table 1).[ii]
Table 1: Economic Performance and Migration Data in Utah's Rural Counties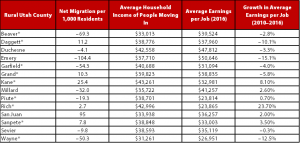 *Rural recreation county
Source: Headwaters Economics
According to HWE data, positive net migration occurred in six of Utah's 14 rural counties, five of which were recreation counties. The average household income of new residents moving into a county was generally higher in Utah's rural recreation counties (Kane, Rich, Garfield, Grand, Sanpete, Daggett, and Piute). Likewise, the fastest growth in average earnings took place in recreation counties (Rich, Kane, and Sanpete).
In addition, wages in recreation-related jobs grew at faster rates than non-recreation-related wages in six of Utah's nine rural recreation counties (see Table 2).[iii]
Table 2: Post-Recession Wage Growth in Utah's Rural Recreation Counties

Source: Kem C. Gardner Policy Institute analysis of Utah Department of Workforce Services data
Based on HWE's report results, which suggest recreational assets attract entrepreneurs, businesses, and workers, Utah is at an economic advantage with 64 percent of its rural counties identified as "recreation counties" compared with 17 percent nationally. At the same time, the draw of recreational amenities can have unintended consequences on rural areas such as traffic, pollution, infrastructure pressure, and increased housing costs. HWE's report signals the importance of Utah's rural recreation counties to consider proactive and collaborative regional planning in order to address potential population growth demands.
Jennifer Leaver is a Senior Research Analyst at the Kem C. Gardner Policy Institute.
[i] See headwaterseconomics.org/wp-content/uploads/recreation-counties-attract-report.pdf.
[ii] HWE distinguishes Metropolitan, Micropolitan, and Rural counties using the U.S. Census Bureau's designations (see U.S. Department of Commerce. 2018. Census Bureau. https://www.census.gov/programs-surveys/metromicro/data.html, Accessed December 12, 2018.)
[iii] Recreation-related job sectors include the arts, entertainment, recreation, accommodation, and food service sectors (NAICS 71 and 72).