By: Jennifer Leaver
Note: The opinions expressed are those of the author alone and do not reflect an institutional position of the Gardner Institute. We hope the opinions shared contribute to the marketplace of ideas and help people as they formulate their own INFORMED DECISIONS™.
Pioneer Day weekend is here, but with less fanfare that years past. Due to COVID-19, Days of '47 parades, rodeos, fireworks, and other holiday activities in cities and towns across Utah have been cancelled and postponed until 2021. Now, halfway through summer, the pandemic's effects on Utah's tourism economy are emerging from the data. Utah's tourism economy has been on an upward recovery since April in the areas of visitation, employment, and hotel occupancy.
Visitation data for the first half of 2020 (Jan-May) reflects national and state park closure differences. In mid-March, Utah's national parks began closing their visitor centers, shuttles, scenic drives, campgrounds, and trails, with a phased re-opening beginning in early May. In contrast, Utah's state parks experienced less disruption—and even a year-over-year boost in visitation—by closing to non-county visitors for two weeks in April. In fact, while year-over-year national park visitation was down 62.4% during the first five months of 2020, state park visitation was up 11.4%. It appears that Utahns and other domestic travelers have been venturing outdoors despite the pandemic and have been taking advantage of Utah's ample outdoor recreation opportunities.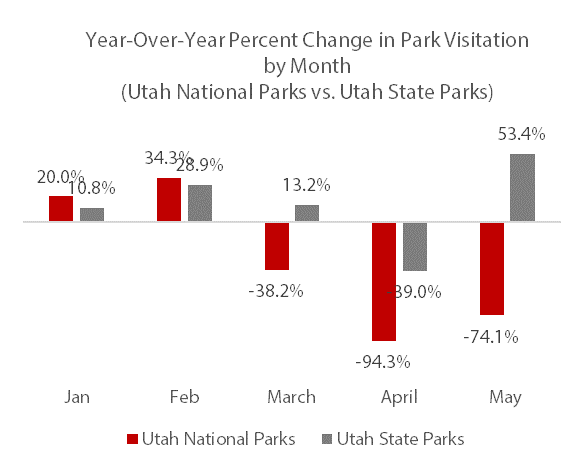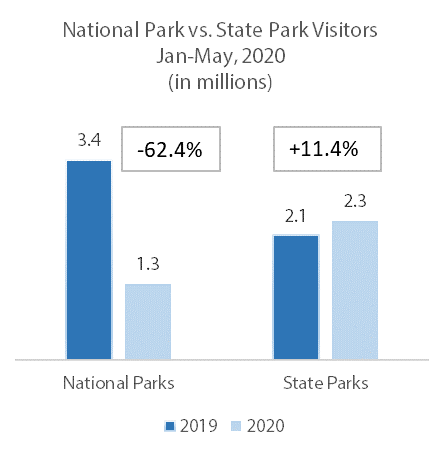 Employment data tells a similar story. It shows that Utah's private leisure and hospitality sector has taken a hit from pandemic-related park closures and changes to hotel, restaurant, and retail operations, but it seems to be recovering. In April, Utah's leisure and hospitality sector jobs were a little over half of what they were the previous year, despite early 2020 increases. Also, Utah's tourism sector has fared a bit better than the U.S. as a whole. In April, which was the sector's low-point, Utah had reportedly lost nearly half of its leisure and hospitality jobs, or around 65,000 jobs. By June, a good portion of those lost jobs had returned.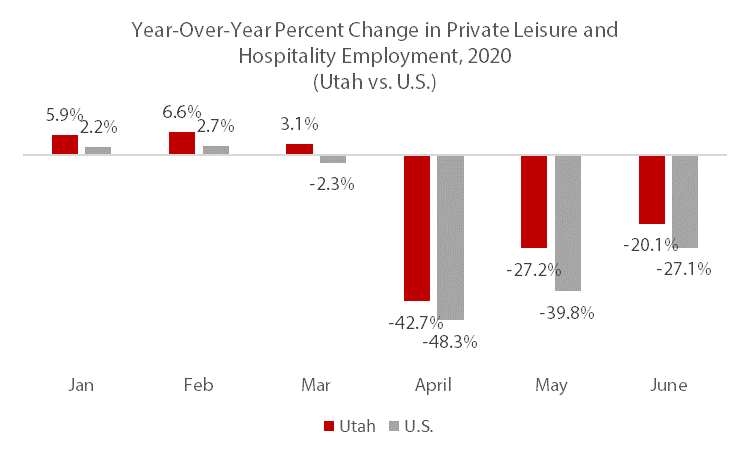 Similarly, year-over-year hotel occupancy rates, which were down by two-thirds in April, have begun crawling upward once again and the gap between last year's rates and this year's rates is narrowing.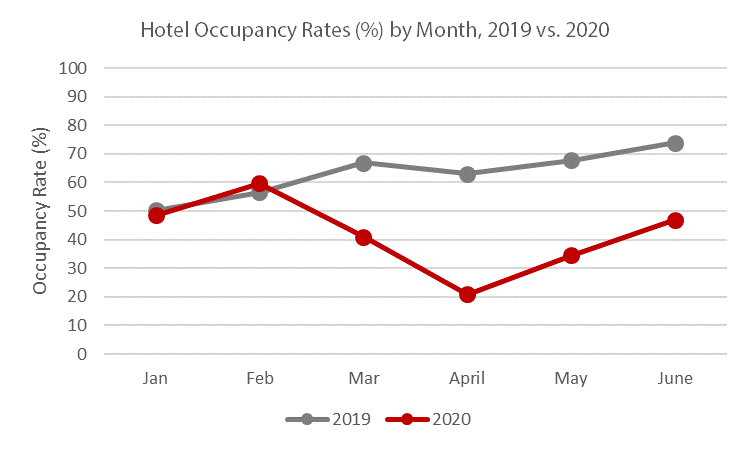 Since March, the COVID-19 pandemic has challenged Utah businesses with creating new ways to safely serve clients, has tasked Utah schools with developing first-of-its-kind online curriculum, and has required us, as individuals, to navigate the uncharted territory of donning masks and distancing socially. As we celebrate Pioneer Day this summer—albeit in a more subdued fashion—let's acknowledge that we are all pioneers in this unprecedented COVID-19 era and it is our pioneering spirit that will power us through it.
Jennifer Leaver is the senior tourism analyst at the Kem C. Gardner Policy Institute.