By: Jennifer Leaver
Note: The opinions expressed are those of the author alone and do not reflect an institutional position of the Gardner Institute. We hope the opinions shared contribute to the marketplace of ideas and help people as they formulate their own INFORMED DECISIONS™.
Exactly one year ago, my teenage daughter and I were anxiously awaiting our summer humanitarian trip to Thailand—something that we had been planning for over six months. One week later, everything changed.
In early 2020, COVID-19 arrived in the U.S. and seemed likely to stay a while. To slow the spread of this new virus, government leaders enacted travel bans, airlines canceled flights, and many hospitality-related businesses closed their doors. The entire world scrambled to find quick solutions to the sudden problems this novel coronavirus created. It soon became clear to me: Thailand was not going to happen. Neither was an April work trip. Nor a fall trip to the East Coast. What also became clear was that travel "as we knew it" was changing.
So, how exactly has the COVID-19 pandemic affected Utah travel trends and visitation?
First, travelers took to the roads instead of the skies. In 2020, air travel was perceived as too risky due to prolonged exposure to shared and recirculated cabin air, making auto transportation the preferred mode of travel. This can be seen in Utah when comparing Utah park visitation during the last four months of 2020 with airline travel during the same period (see Figure 1). Year-over Utah park visitation was up last fall—even setting records—while airline travel was down significantly at both Salt Lake City and McCarran (Las Vegas) International Airports. Data indicate that the parks' loss of international and long-haul visitors was quickly backfilled by in-state and regional visitors arriving by car.
Figure 1: Year-Over Change in Utah Park Visitors and Airline Passengers, September–December 2020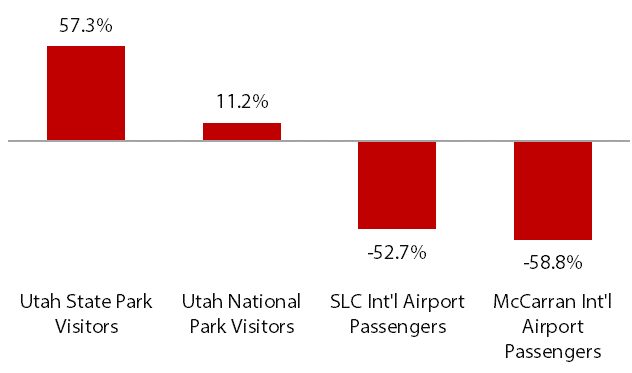 Source: Kem C. Gardner Policy Institute analysis of Utah State Parks, National Park Service, Salt Lake City International Airport, and McCarran International Airport data
Once in their cars, travelers drove to rural, less populated areas of the state, not its urban centers. The following figure shows year-over change in transient room tax revenue by county. The darker red bars represent Utah's more populated counties; the lighter red bars, the less populated. All nine counties with year-over increases in transient room tax revenue have populations of 50,000 or fewer residents.
Figure 2: Year-Over Change in County Transient Room Tax Revenue by County, 2019–2020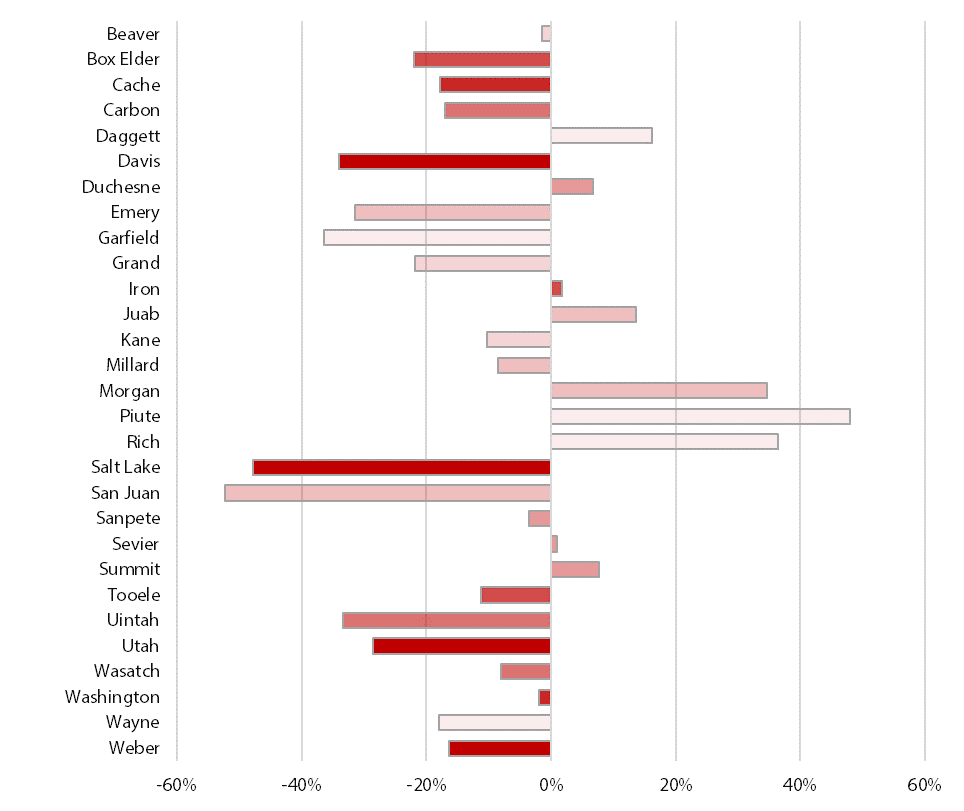 Source: Kem C. Gardner Policy Institute analysis of Utah State Tax Commission data
The pandemic also generated a renewed interest in outdoor recreation. In 2020, American travelers traded concerts for camping, museums for mountain biking, and packed playhouses for paddling. According to Utah sales tax data, in 2020, many of Utah's outdoor recreation sectors saw a surge in 2020 sales, including recreational and vacation camps, boat dealers, and sporting and athletic goods manufacturing (see Figure 3).
Figure 3: Year-Over Change in Taxable Sales by Outdoor Recreation Industry, 2019–2020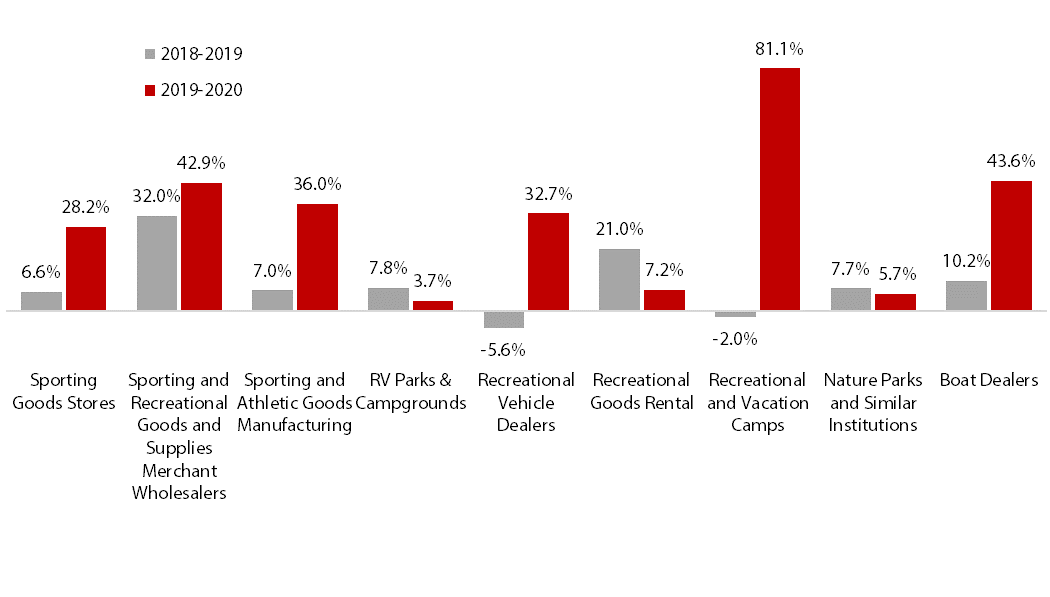 Source: Kem C. Gardner Policy Institute analysis of Utah State Tax Commission data
If anything, the 2020 pandemic has demonstrated that travel is important to humans and people will adapt, as needed. And because Utah is centrally located, accessible by car, has plenty of open space, and is a haven for outdoor recreation, it has rebounded more quickly than states less able to meet these new pandemic-driven travel criteria.
Finally, with COVID vaccines already in some arms and potentially in most arms by summer, will visitors continue to explore Utah's rural regions and natural amenities? Or, will they instead fly to see family and friends in big cities? Or take that long-postponed and much-anticipated Disneyland trip? Will business travel for conferences, conventions, and meetings return quickly, or will people continue to meet virtually? It's difficult to predict but will be interesting to see which travel behaviors the pandemic has permanently changed and which behaviors will be abandoned once it's safe to gather in large groups again.
Jennifer Leaver is the senior tourism analyst at the Kem C. Gardner Policy Institute.