By: Jennifer Leaver
As Utah experienced heavy snowfall this past ski season, thousands of tourists and native Utahns pulled out their ski gear and made their way up to the several ski resorts to enjoy the fresh powder. The easy access to world renowned skiing has always been a point of pride for Utahns, even to the point of mentioning the quality snow on our license plates. This past December at the Gardner Policy Institute, Ski Utah CEO Nathan Rafferty joined Natalie Gochnour for a conversation about Utah's $1.4 billion ski industry.
After an entertaining self-introduction, including his rise from intern to CEO at Ski Utah, Rafferty talked about the Utah ski industry's economic contributions, the number of skier days (4.1 million last season), and the quality of Utah snow in a national context. According to Rafferty, Utah's ski industry ranks fourth in the nation after Colorado, California, and Vermont based on visitor spending and skier days.
Utah Skier/Snowboarder Expenditures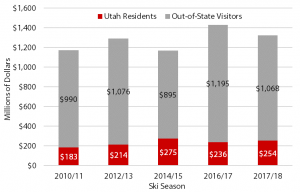 Source: RRC Associates
Gochnour asked Rafferty about climate change and its possible effects on Utah's ski industry. Rafferty explained that Utah resorts' higher elevations make them less vulnerable to warming temperatures than lower elevation resorts where snowmaking becomes essential and prohibitively expensive. Rafferty pointed out that smaller-scale East Coast resorts raise a large population of future skiers and snowboarders that "feed" Utah ski resorts. In Rafferty's opinion, losing East Coast "feeder resorts" to climate change could have the greatest impact on Utah resorts. That said, data show that Utah mountaintops are experiencing general warming trends.
April 1 Snow Water Equivalent (SWE) at Ben Lomond Peak, Utah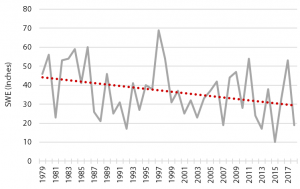 Source: U.S. Department of Agriculture, Natural Resources Conservation Service
The newsmaker breakfast concluded with Rafferty addressing Gochnour's question about Utah hosting another Winter Olympic Games (it's looking good) and audience questions on subjects including ski ticket price increases, Salt Lake City International Airport and ski resort expansion, resort access (i.e. canyon traffic), ski connect/One Wasatch, and aging female skier retention.
Utah Skier Days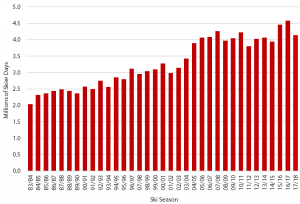 Note: The ski season spans from December of the first year through April/May of the second year.
Source: Ski Utah
Aside from his many humorous jabs at Colorado (Utah's biggest industry rival), Rafferty admitted, "the ski industry is extremely collaborative and there is competition but…the general managers of the ski areas are all fast friends."
Overall, Rafferty was an enjoyable newsmaker who left audience members yearning for the slopes and the freshly fallen "greatest snow on earth."
Jennifer Leaver is a senior research analyst at the Kem C. Gardner Policy Institute.