By Emily Harris
Note: The opinions expressed are those of the author alone and do not reflect an institutional position of the Gardner Institute. We hope the opinions shared contribute to the marketplace of ideas and help people as they formulate their own INFORMED DECISIONS™.
The Census Bureau has released its second set of products for the 2022 vintage: population estimates and components of change for all counties in the United States. Usually, the metropolitan and micropolitan statistical areas are included with the county estimates, but there is a delay this year so they will be released in May.
Generally, we utilize the Utah Population Committee (UPC) population estimates  for Utah in our work, but Census Bureau estimates give us the chance to compare Utah and its counties to other states and the nation.
To learn more about this data release and see the complete Utah data, see our latest fact sheet.
Nationally, growth in many of the nation's large counties is rebounding back to pre-pandemic levels, while smaller county growth is moderating to pre-pandemic levels. And for the first time in a while, none of Utah's counties cracked a national top 10 list.
Utah's annual growth rate, 1.2%, was much lower than Utah has seen over the last decade. This translated to lower percentage growth across many of Utah's rapidly growing counties. The fastest-growing counties were Tooele, Daggett, Washington, Iron, and Juab counties. All had growth rates of over 3%, with Tooele County highest at 4.2%.
Annual Percent Change in Total Population, 2021-2022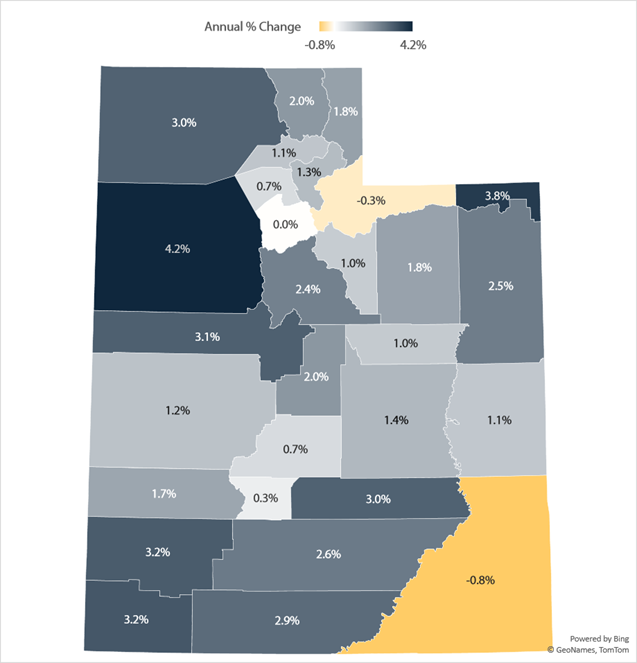 Over half (54.8%) of statewide growth came from two counties. Utah and Washington counties added 16,628 and 6,204 new residents, respectively. Tooele, Weber, and Cache counties each contributed over 6% to statewide growth. Only three counties experienced population declines this year, detailed in the table below.
Counties with Population Declines (2021-2022)

The majority of Utah counties (24 of 29) had more net in-migration than natural increase. However, Utah as a whole had only 44% of its growth come from net migration. Utah's fastest growing counties, especially those located in Southwestern Utah and those surrounding the Wasatch Front core, are experiencing most of their growth from net migration. Only three of Utah's 29 counties experienced natural decrease, or more deaths than births: Carbon, Emery, and Piute counties.
The 2022 county estimates indicate some return to normalcy for the nation after the pandemic, but for Utah these estimates show a new (for Utah) pattern of slowing growth. As the Census Bureau continues to release population estimates products through the next couple of months, we will keep reviewing these numbers and relaying the important Utah content, so keep checking back for more updates!
Emily Harris is a senior demographer at the Kem C. Gardner Policy Institute.