By: Mallory Bateman, Director of Demographic Research
Yesterday the Census Bureau released the 2021 1-Year American Community Survey (ACS) Estimates. Utah popped in the national press release as having the highest share of people with private health insurance coverage (77.8%). Due to the 2020 1-Year Estimates being experimental, the Census Bureau does not recommend comparing them with other years. We will make comparisons between 2019 and 2021.
These estimates provide insights into over 40 different socioeconomic topics for communities with 65,000 or more residents. In Utah, this means we gain insights for seven counties (Cache, Davis, Salt Lake, Tooele, Utah, Washington, and Weber) and 11 cities (Layton, Ogden, Orem, Provo, St. George, Salt Lake City, Sandy, South Jordan, West Jordan, and West Valley City) in addition to state-level insights.
Another area of emphasis in the national picture was the increase in people working from home. In 2019, 5.7% of U.S. workers worked from home. By 2021, this had increased to 17.9%. In Utah, a similar increase occurred, with 7.4% of workers in 2019 to 20.0% in 2021. Salt Lake County drove nearly half of the increase, with an increase of over 104,000 residents working from home between 2019 and 2021.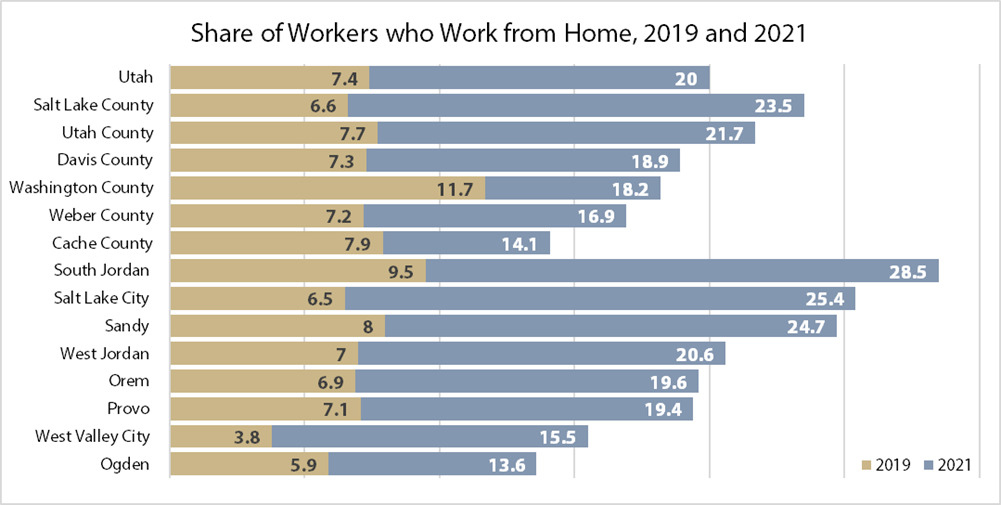 Source: U.S. Census Bureau, 2021 1-Year American Community Survey Estimates
Some economic factors appear to have improved between 2019 and 2021. Median household and family income increased, while the share of married-couple families with children below the poverty level decreased.

One question I get often relates to new Utahns, particularly movers. However, in this data, we didn't see statistically significant differences between 2019 and 2021 for the shares of people moving to Utah from other states. We saw changes in the share of Utah movers, with declines for those moving to other counties as well as those moving within their county.

The ACS provides a wealth of information, with data accessible at data.census.gov. If you want to learn more about gathering or working with ACS data, Census Academy is a great one-stop shop to get you started. The 5-Year ACS Estimates, which provide insights into all levels of geography, are scheduled for release in December 2022.
Mallory Bateman is the director of demographic research at the Kem C. Gardner Policy Institute.
Note: The opinions expressed are those of the author alone and do not reflect an institutional position of the Gardner Institute. We hope the opinions shared contribute to the marketplace of ideas and help people as they formulate their own INFORMED DECISIONS™.