By: Mallory Bateman & Natalie Young
Note: The opinions expressed are those of the author alone and do not reflect an institutional position of the Gardner Institute. We hope the opinions shared contribute to the marketplace of ideas and help people as they formulate their own INFORMED DECISIONS™.
Today the Census Bureau released the 2020 census redistricting geographic support products for Utah. The decennial census is known for producing demographic insights into communities across the nation by tallying both population and housing. Geography is a fundamental aspect of this once-a-decade operation. Your address determined how your household was invited to participate in the census, the type of outreach your community received, and is also an important element in the Census Bureau quality assurance process.
The Census Bureau provides data within two types of boundaries: statistical and legal. Statistical boundaries depend on population thresholds and typically follow features like roads, power lines, and rivers. Legal boundaries are more familiar, like city, county, and state boundaries. You can learn more about all of the Census Bureau geographies here.
These geographic products, available for public download here, provide the reference geography for the upcoming demographic data releases. These materials include updates to both statistical and legal boundaries that have occurred throughout the past decade. All boundaries reference January 1, 2020.
Geographies change for several reasons. A city or town may be legally created or dissolved. The Census Bureau may recognize a well-known place by forming a new census-designated place (CDP). Population change often leads to the creation of new statistical entities, necessary for collecting data appropriate for the new community size.
Number of features for key 2020 census geographies:
333 places (which include cities, towns, metro townships, and CDPs), a net increase of 7 since 2010.
As shown in Figure 1, several places also changed their status, such as by moving from a CDP to a metro township or city.
Statistical geographies:

716 census tracts, a net increase of 128 since 2010.

The highest gains in tracts were in the Wasatch Front counties (Salt Lake, Utah, Davis, and Weber) and Washington County, reflecting the decade's high population growth in these areas. Fast-growing counties also gained tracts, with Tooele and Wasatch Counties each adding six and Iron County adding four. Thirteen counties had no change to their tract count.

2,020 block groups, a net increase of 330 since 2010.
71,207 census blocks, a net decrease of 44,199 since 2010.
Figure 1: New or Changed-Status Places in Utah, Census 2020 Geographic Products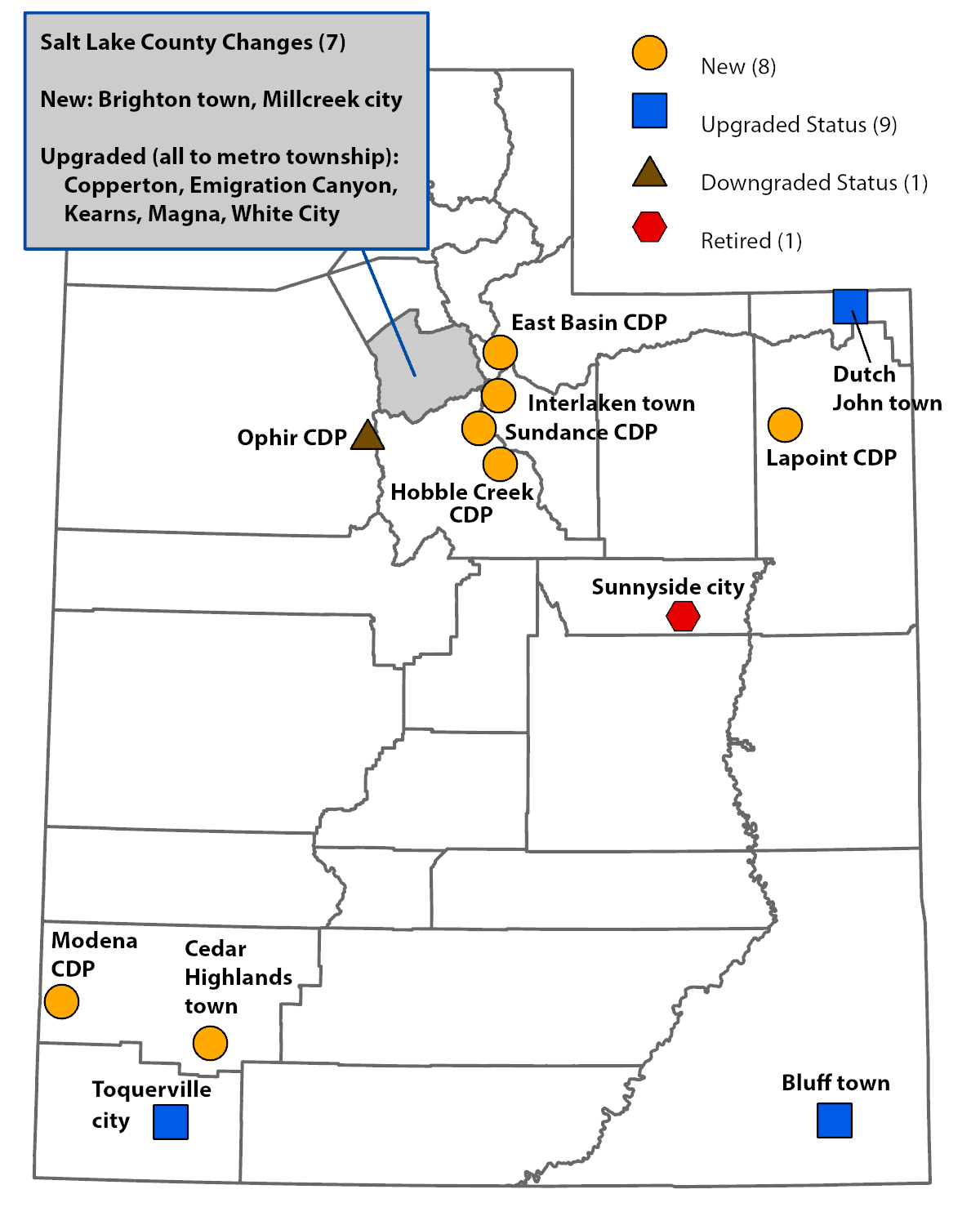 Notes: The eight new places include five new CDPs and three new towns. Of the nine places with upgraded place status, two moved from CDP to town, five moved from CDP to metro township, one moved from CDP to city (Millcreek), and one moved from town to city (Toquerville). Ophir was downgraded from town to CDP. Sunnyside city was retired, but the area is now largely covered by the previously adjacent East Carbon city.
Source: Kem C. Gardner Policy Institute analysis of 2020 Census P.L. 94-171 TIGER/LineTM Shapefiles prepared by the U.S. Census Bureau, 2020
The Gardner Institute and Utah's Automated Geographic Reference Center (AGRC) are working hard to get Utah-specific insights and GIS downloads of these products. Stay tuned for more details on geographic changes and how to access Utah-oriented downloads and maps.
See also: Census Bureau to Release 2020 Census Geographic Products
Mallory Bateman is a senior research associate and state data center coordinator at the Kem C. Gardner Policy Institute.
Natalie Young is a research analyst at the Kem C. Gardner Policy Institute.