By: Natalie Gochnour
New York Times columnist Thomas L. Friedman is a world class talent. It was our privilege to host him at the inaugural Kem C. Gardner Policy Symposium this month. I attended the event and enjoyed a dinner with him the night before. I'd like to share a few insights from the experience.
You can't spend time with Tom Friedman without feeling enlarged. His expansive mind takes your brain places it wants to go. And, while I learned many things, I want to share an observation about the man. This guy "walks the talk." He writes in his new book, Thank You for Being Late, about the importance of the golden rule in an era of acceleration. His point is that how we treat people matters now more than ever.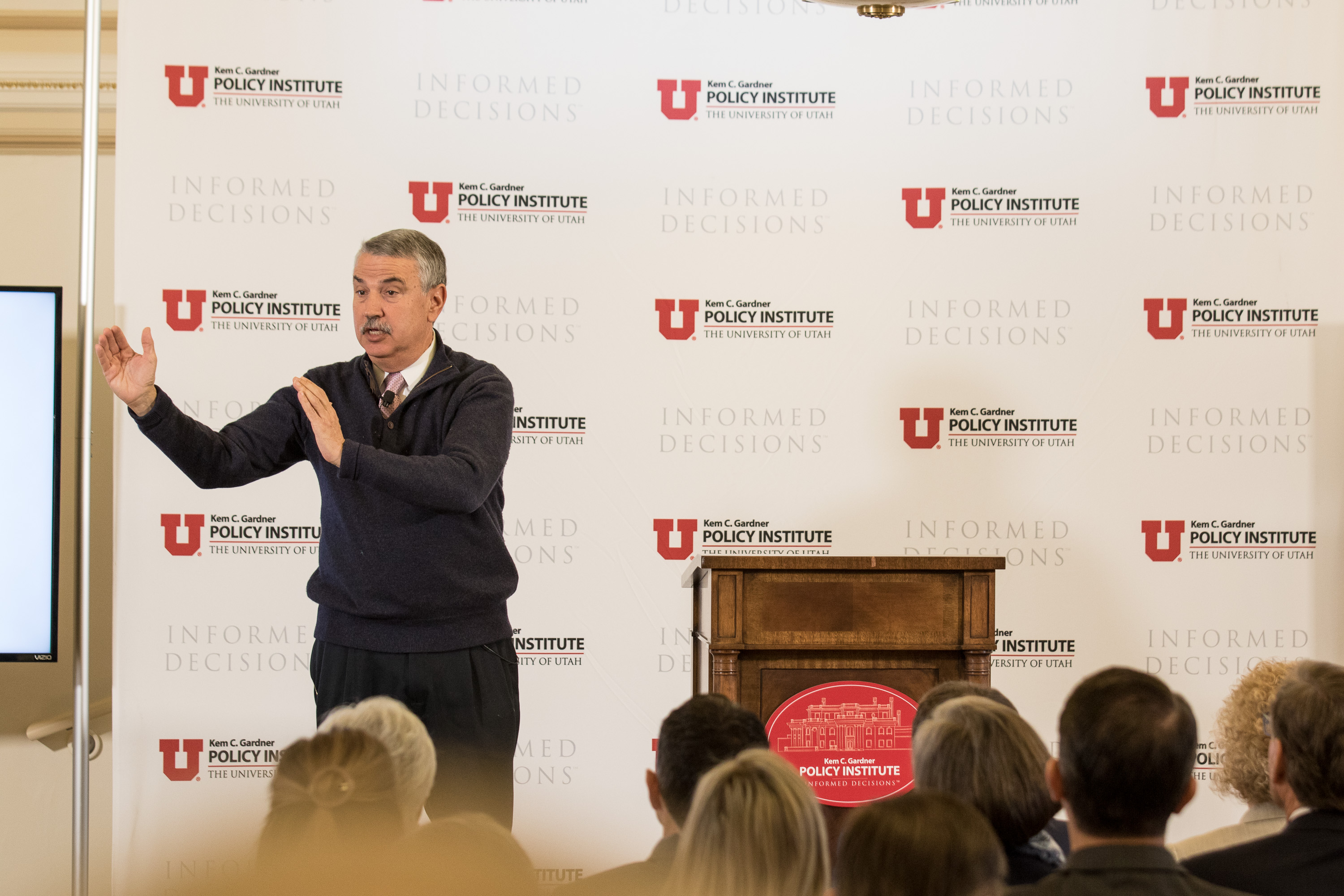 Friedman exemplifies this message. I found all his interactions with our team –the initial phone call invitation, the making of travel arrangements, his politeness while signing books, his interaction with community leaders – to be completely gracious and professional. He was the consummate gentleman as we spent an evening and fast-paced morning together. I find it so refreshing that an uber-talented thought leader is also a fine human being. I thank Tom Friedman for that.
The second observation concerns Tom Friedman's gift. Others have characterized it as the ability to translate "English to English." He takes complex world affairs, technological advancements, and environmental change and makes them real. He predicts and interprets major inflection points. He helps you get your arms around them, bring them into your life, and personalize them. His observations impact how you view the world. Your mind quickens, your perspective enlarges, and your decisions improve. Tom Friedman helps us understand.
We were pleased to have in attendance an all-star and diverse cast of community leaders. Gov. Herbert, Speaker Hughes, Mayor McAdams, Mayor Biskupski, Gov. Romney, Gov. Leavitt, and a room full of other business and community leaders attended. Together, we listened and learned about our complicated and changing world. We learned of the importance of states and communities in preventing and solving problems. And we learned that each of us has a role to play…together.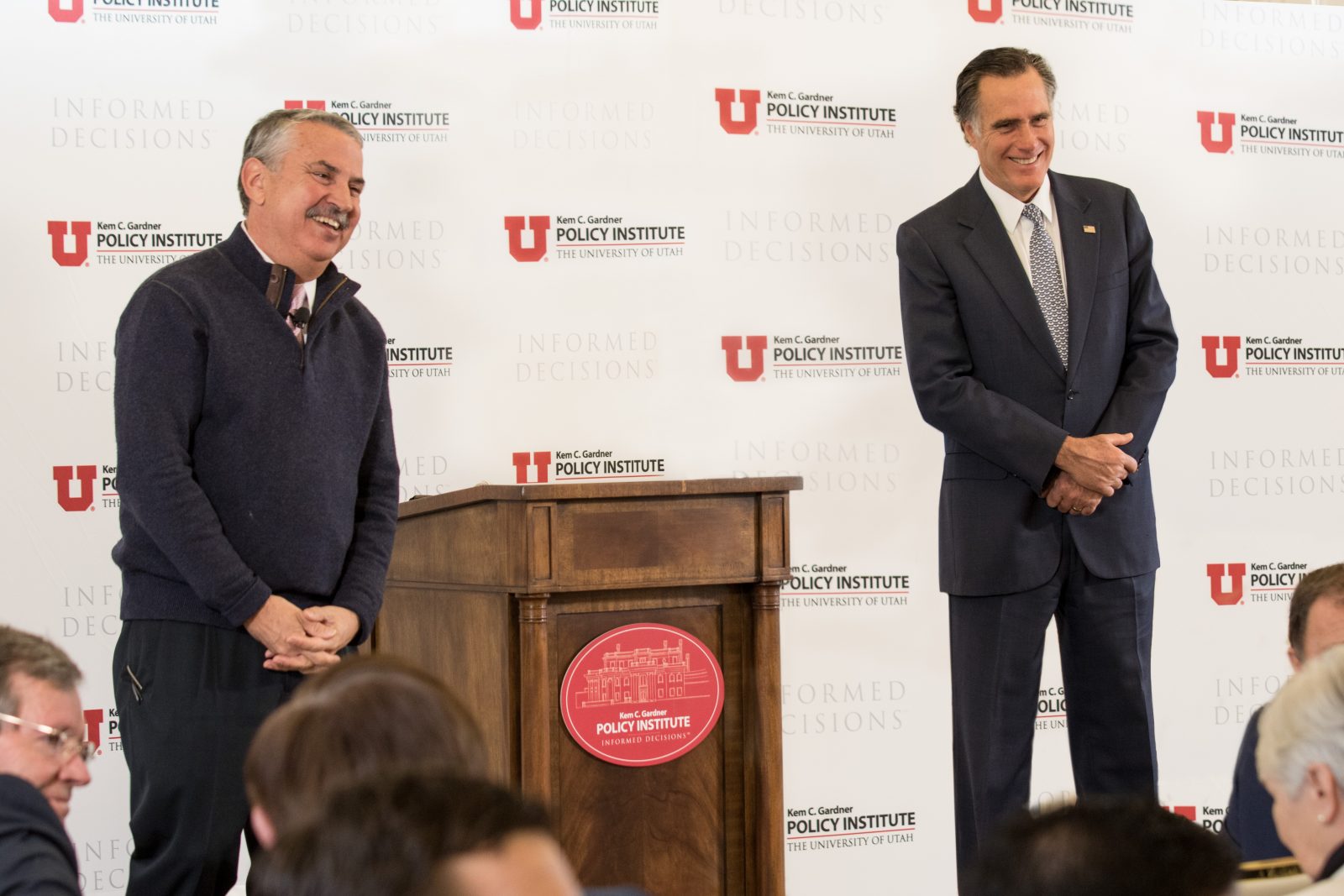 There were many takeaways. If you want the full portfolio of insights, read the book. It's a great read.
I will share one takeaway from the book for you to think about. Friedman said this, "When you push pause on a computer, it stops. When you push pause on the human mind, it starts."
Friedman encourages each of us to push the pause button and let our minds roll. Let it think. Let it go any place your life experiences take it. Use the time on pause to reflect on your life and how it relates to world events. Think about the pace of change. Think about our human capacity to deal with it. Think about Mother Earth and how important she is. Think about evil in this world and how it needs good people to combat it. Think about empathy and the Golden Rule. Do your part to make this world a better place.
I don't know how we will surpass the value of this symposium at our next one, but we will sure try. I'd like to publicly thank Govs. Romney and Leavitt for convening it, our board chairs Scott Anderson and Gail Miller for leading our institute, and Kem C. Gardner for his generous support.
Natalie Gochnour is the associate dean of the David Eccles School of Business and director of the Kem C. Gardner Policy Institute.