By: Jennifer Leaver
Note: The opinions expressed are those of the author alone and do not reflect an institutional position of the Gardner Institute. We hope the opinions shared contribute to the marketplace of ideas and help people as they formulate their own INFORMED DECISIONS™.
It's National Travel and Tourism week and while nearly a third of all Americans have been fully COVID-vaccinated, even more (45%) have received their first shot. As travel season nears, there is much talk about swelling savings accounts and pent-up travel demand. Although it's difficult to know how quickly vaccinations will lead to a complete tourism industry recovery, there is a clear discrepancy between Utah's urban and rural travel rebound rates.
First, consider airline travel, which is indicative of urban travel. Figure 1 shows total Salt Lake City airline passengers from January 2019 through March 2021. The red dots represent total international passenger shares. In March 2021, SLC International Airport recorded a healthy 36% increase in passengers from the previous month as well as the greatest number of passengers post-pandemic (a 19% year-over increase). Though an upward trend for the airlines, March 2021 passengers were still only 62% of the March 2019 passenger count. On a positive note, however, Tourism Economics and IATA analysts forecast that domestic U.S. airline travel will return to 96% of 2019 levels by the end of the year, even though international airline travel will take several more years to rebound.[1]
Figure 1: Salt Lake City International Airport Passengers, January 2019–March 2021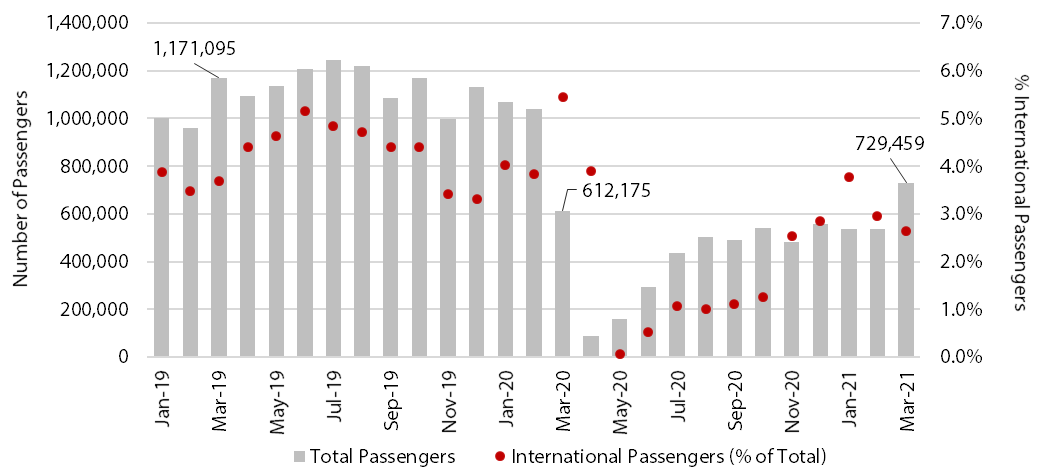 Source: Kem C. Gardner Policy Institute analysis of Salt Lake City International Airport data
As urban travel rebounds slowly, rural Utah travel is back. When comparing weekly occupancy rates in downtown Salt Lake City with the gateway community of Springdale, Utah, the contrast is striking. In Figure 2, downtown SLC is represented in red and Springdale in grey, with dotted lines noting baseline occupancy (2019). Occupancy data show that while urban travel is on an overall upward trend, it still lags behind rural travel. In fact, from January through April 2021, Springdale occupancy rates have already surpassed 2019 rates.
Figure 2: Hotel Occupancy Rates by Week, Downtown SLC vs. Springdale, Utah, 2021 vs. 2019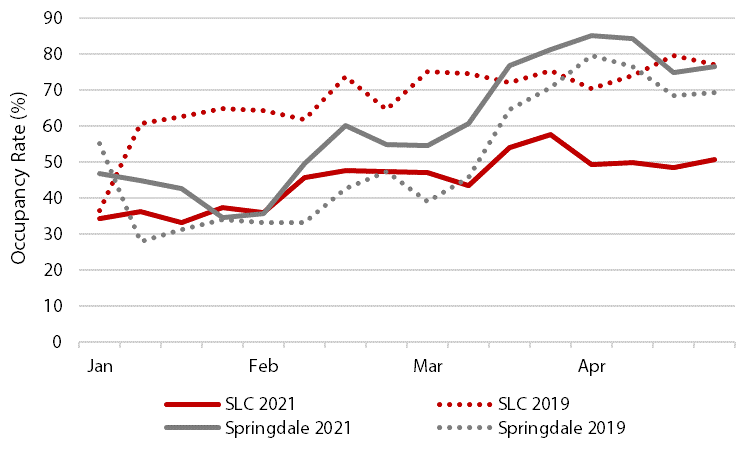 Source: Kem C. Gardner Policy Institute analysis of STR, Inc., data. Republication or other
re-use of this data without the express written permission of STR is strictly prohibited.
Differences in rebound rates are also visible when we compare urban and rural leisure and hospitality employment data. Figure 3 shows that St. George hospitality employment had fully returned to pre-COVID levels by November 2020. Meanwhile, as of March 2021, leisure and hospitality employment in Salt Lake City was still down nearly 10% from baseline.
Figure 3: Change in Leisure & Hospitality Employment from 2019, January 2020–March 2021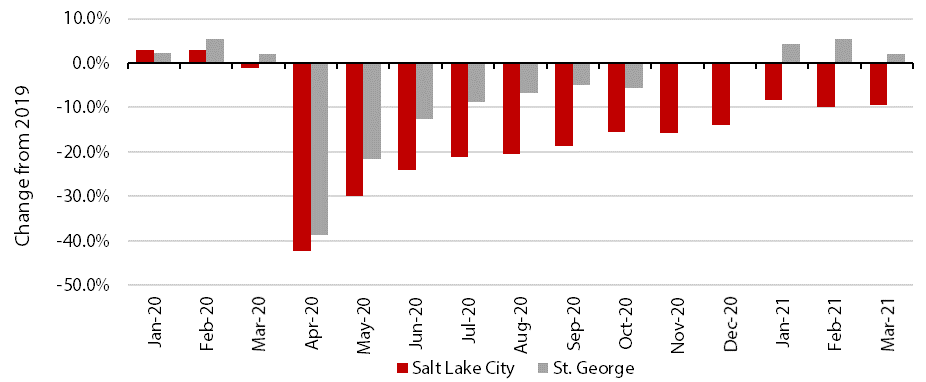 Source: Kem C. Gardner Policy Institute analysis of U.S. Bureau of Labor Statistics data
As airline, hotel occupancy, and employment data show, Utah is experiencing two very distinct post-COVID tourism recoveries. What will it take—in addition to vaccinations—for Utah's urban market to fully recover? I believe that despite the risk-aversion and "Zoom boom" generated by the pandemic, Utah's urban travel market has many things going for it, including a major airport remodel/expansion, a new convention hotel slated to open in 2022, and a stellar marketing team (Visit Salt Lake) that knows how and when to pivot.
Jennifer Leaver is the senior tourism analyst at the Kem C. Gardner Policy Institute.
[1] Based on Tourism Economics/IATA webinar that aired on April 27, 2021, titled: "Air Passenger Forecasts: Will air travel take-off again in 2021?"