By: Mallory Bateman
Every November 11, we honor the sacrifices and contributions of those who have served in our Armed Forces. The original Veterans Day was Armistice Day in 1919 that commemorated first anniversary of the end of World War I, which officially ended one hundred years ago this Monday. As we look forward to honoring and remembering our veterans over the weekend, the Gardner Policy Institute wanted to share some insights into who they are.
In 2017, 5.7% of the population over 18 in Utah identified as a Veterans. This share is lower than many states across the nation, especially other intermountain states like Wyoming and Montana. However, when considered in context of the state, if the nearly 125,000 former service men and women comprised their own city, they would be slightly larger than Provo or West Jordan.
Veterans in Utah are predominantly male, with only 7.3 percent of being women. This estimate is slightly lower than estimates from the Utah Department of Veterans & Military Affairs, which cites around 9 percent of Utah veterans are women.
Over 40 percent of Utah female veterans were between the ages of 35 and 54, which is also seen in national data. The number of women in the military grew significantly after introduction of the All-Volunteer Force in 1973. For men, the age groups with the largest shares of veterans were older, with 29 percent between ages 65 and 74 and 26 percent aged 75 or over.
Aligning with these age groups, those who served in Vietnam are the largest share of Utah veterans overall. However, if the entire Gulf War conflict is considered as one time period, these veterans would account for more than half of Utah's veteran population.
Share of Veterans in Utah by Period of Service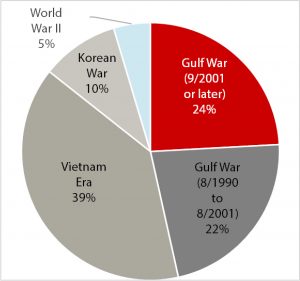 Source: American Community Survey 2017 1-Year Estimates
For more context on veterans across the U.S., the Census Bureau's Facts for Features provides additional historical context as well as national level data points. Additionally, a new America Counts blog post provides more insights into the centennial of the end of World War I. Our Director of Demography discussed Veterans Day and Utah insights in 2015 – visit that blog here. In addition to the national and local resources available from the American Community Survey, the Utah Department of Veterans & Military Affairs, is a great local resource for and about Utah veterans.
Mallory Bateman is a research associate and state data center coordinator at the Kem C. Gardner Policy Institute.