By: Pam Perlich, Ph.D.
Population estimates released today by the U.S. Census Bureau confirm that Utah and its neighboring states in the Intermountain West lead the nation in population growth. From July 1, 2017 to July 1, 2018, the most rapidly growing states are:
Nevada: 2.08%
Idaho: 2.05%
Utah: 1.9%
Arizona: 1.7%
Florida: 1.5%
The Census Bureau estimates that Utah's July 1, 2018 population is 3,161,105, ranking it the 30th largest population state, increased from 31 last year, surpassing Iowa in the ranking.  This is an annual increase of 57,987 residents, with natural increase contributing 32,968 (57%) and net in-migration contributing 25,019 (43%) to the increase. Growth rates remain steady but have slightly declined from last year.
Utah's population growth rate for the decade so far (2010 to 2018) is the highest among all states, having grown by 14.4 percent.
Population Growth Rate: July 1, 2017-July 1, 2018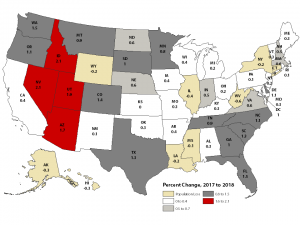 Source: U.S. Bureau of the Census, Population Division
Utah's population growth is fueled by the highest per capita rate of natural increase among all states. Utah's birth rate (per capita) is the highest in the nation. This is the combined result of the state's youngest median age and high fertility rate. Utah's young median age also contributes to the lowest per capita death rate among all states.
Natural Increase Annual Rate of Change: July 1, 2017 to July 1, 2018
For more information on the Census release, click here.
Pam Perlich is the director of demographic research at the Kem C. Gardner Policy Institute.