By: Gracie Capps and Jennifer Leaver
Note: The opinions expressed are those of the author alone and do not reflect an institutional position of the Gardner Institute. We hope the opinions shared contribute to the marketplace of ideas and help people as they formulate their own INFORMED DECISIONS™.
Utah is often called "nature's playground" due to its diverse range of terrain and year-round outdoor recreation opportunities. Each year, millions of people visit Utah's parks and ski resorts to participate in a wide range of outdoor activities and, in the process, generate billions of dollars in economic impact. In addition to attracting visitor spending, Utah's outdoor recreation opportunities offer a host of hidden health benefits—something that became more evident during the COVID-19 pandemic.
Utah is unique in that its urban areas are near a variety of parks and ski resorts, which facilitates access to activities that promote healthy lifestyles. In addition to the physical health benefits of outdoor recreation, research shows that exposure to nature offers various mental health advantages, including enhanced cognitive function, lower stress levels, more energy, and improved focus and attention.[i] Exposure to nature is also associated with increases in happiness, positive social interactions, and having a sense of purpose in life.[ii]
Unfortunately, the COVID-19 pandemic and public health emergency had negative impacts on individuals' physical and mental health. Stay-at-home directives produced an increase in sedentary lifestyles and feelings of isolation. Interestingly though, Utah experienced a surge in outdoor recreation during the pandemic by those seeking outdoor physical activity and mental well-being.
From 2019 to 2021, Utah's five national parks experienced a remarkable influx of over half a million additional visitors. Simultaneously, Utah's state parks welcomed 3.6 million more visitors across their 46 locations. This surge shows the significant demand for outdoor recreation in and to Utah during the height of the pandemic (Figure 1).
While Utah has the second lowest rate of physical inactivity in the United States[iii], the decrease in the rate of Utahns' physical inactivity in 2020 further indicates a greater interest in physical activity and outdoor recreation during the pandemic (Figure 2).
The significant increase in the sale of sporting and recreation goods in Utah in 2020 and 2021 also showcases the popularity of outdoor recreation during the pandemic (Figure 3).
Finally, Utah outperformed the Western U.S. and the nation in maintaining its amusement and recreation jobs during the pandemic years (Figure 4).
Overall, the convenient access to Utah's range of outdoor opportunities is a multifaceted asset: they promote physical and mental well-being while simultaneously driving economic growth. Utah never fails to satisfy its residents or visitors with the countless advantages of its natural playground.
Figure 1. Percent Change in National and State Park Visitors, 2019-2021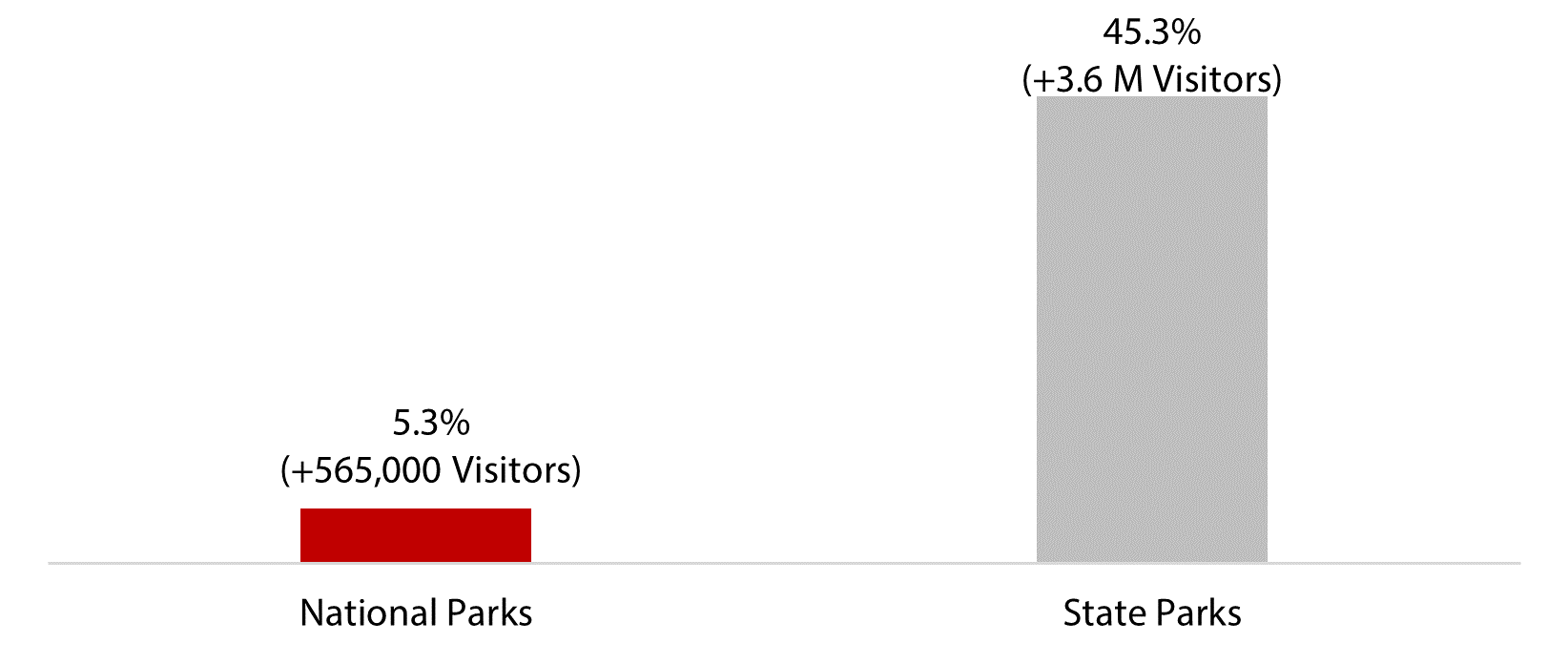 Source: Kem C. Gardner Policy Institute analysis of National Park Service and Utah State Park data
Figure 2. Age-Adjusted Rate of Physically Inactive Adults, 2018-2022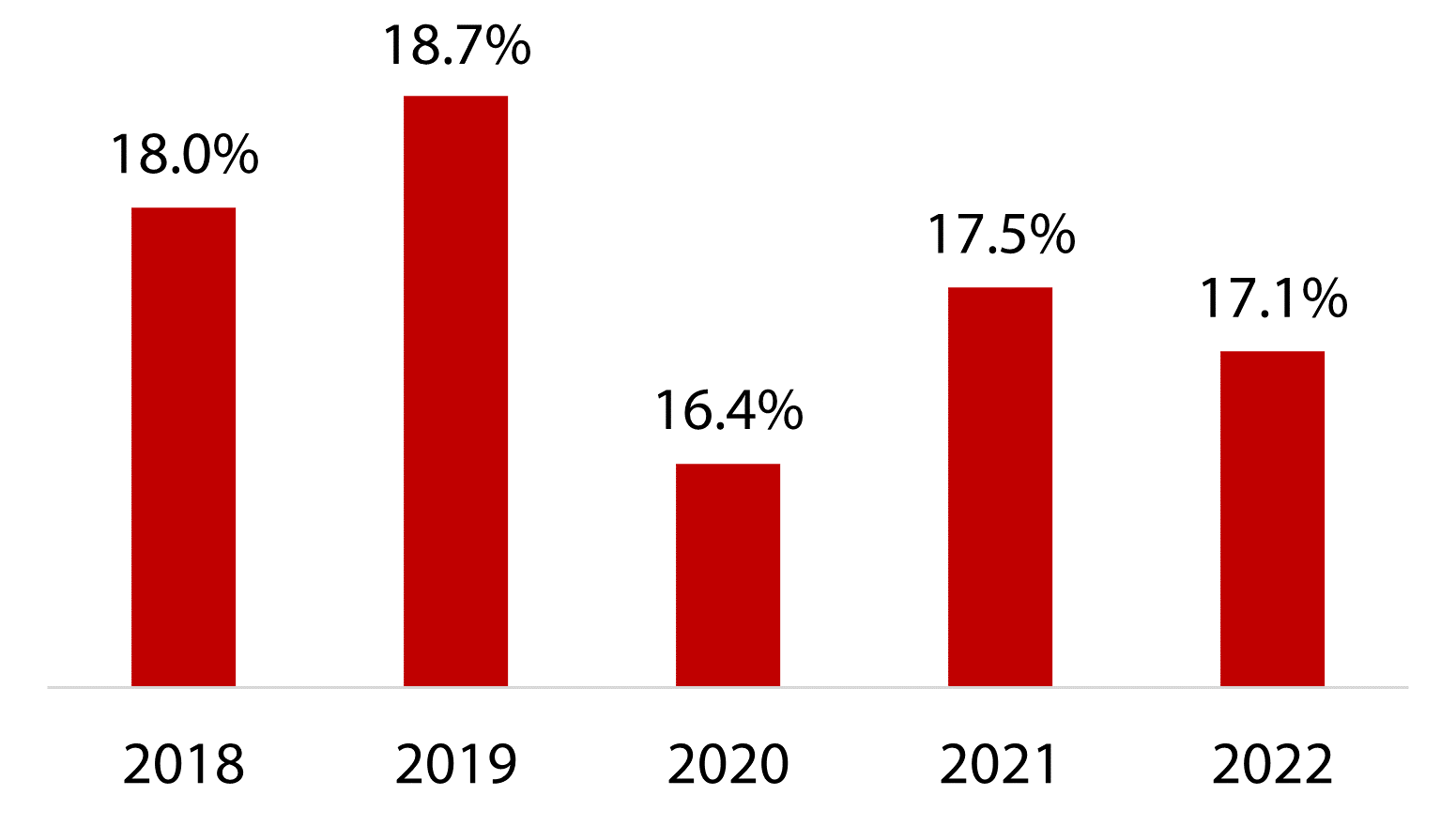 Source: Kem C. Gardner Policy Institute Query Results for Utah's Behavioral Risk Factor Surveillance System (BRFSS) Combined Landline and Cell Query Module – Physical Inactivity. Utah Department of Health and Human Services.
Figure 3. Year-Over Change in Sporting Goods Taxable Sales, 2013-2022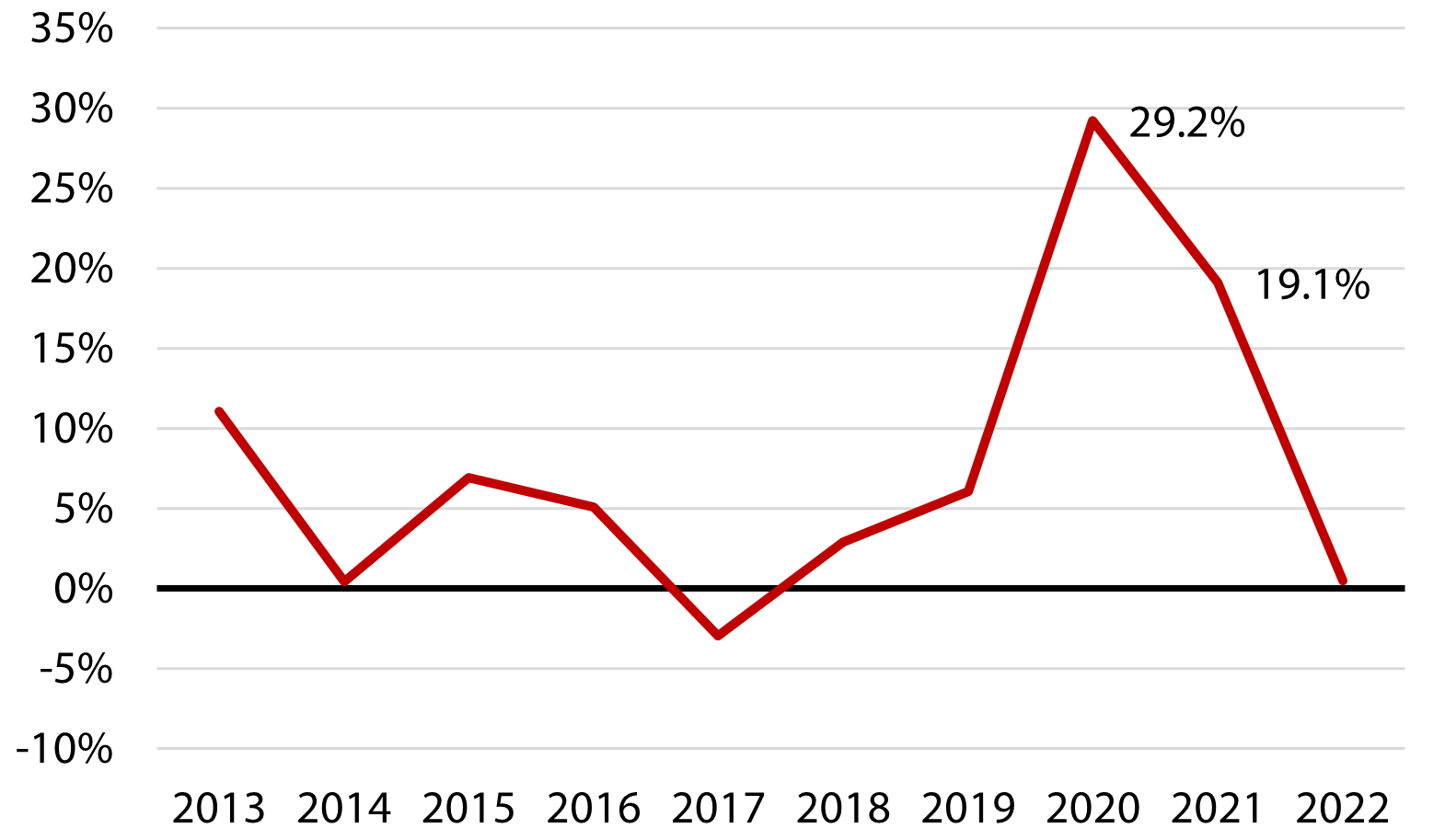 Note: Sporting Goods includes fishing, bicycling, golf, diving, skiing, and outdoor recreation equipment.
Source: Kem C. Gardner Policy Institute analysis of Utah State Tax Commission data
Figure 4. Percent Change in Private Amusement & Recreation Industry Jobs, 2019-2020 and 2019-2021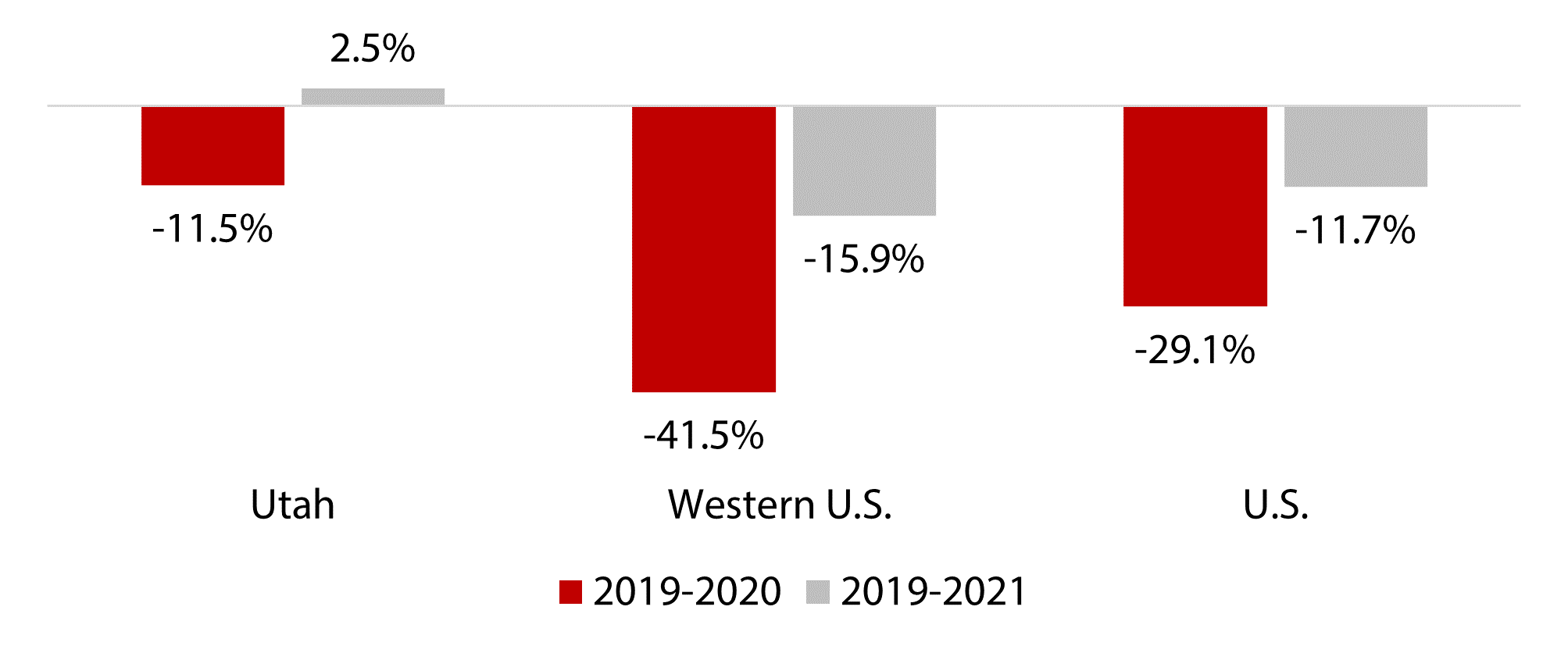 Note: Amusement and recreation jobs include jobs in outdoor adventure operations, biking, camping, skiing, rafting, etc.; the "Western US" includes WA, OR, CA, ID, NV, MT, AZ, CO, WY, and NM.
Source: Kem C. Gardner Policy Institute analysis of U.S. Bureau of Labor Statistics data
Jennifer Leaver is the senior tourism analyst at the Kem C. Gardner Policy Institute and specializes in local, regional, and statewide tourism research.
Gracie Capps is a senior at the University of Utah studying Health, Society & Policy, and Psychology.
[i] See https://uofuhealth.utah.edu/notes/2021/12/power-of-recreation
[ii] See https://www.apa.org/monitor/2020/04/nurtured-nature
[iii] See https://www.cdc.gov/physicalactivity/data/inactivity-prevalence-maps/index.html#overall