By: Laura Summers
Note: The opinions expressed are those of the author alone and do not reflect an institutional position of the Gardner Institute. We hope the opinions shared contribute to the marketplace of ideas and help people as they formulate their own INFORMED DECISIONS™.
There are a lot of unknowns about the coronavirus (COVID-19), but one thing for certain is the daily flood of information we get about it through news, emails, social media, and chats around the water cooler. Some of this information is good and helpful, but it's important to be able to sort out the good from the bad.
Here at the Kem C. Gardner Policy institute, our mission is to share economic, demographic, and public policy research that sheds light and helps people make INFORMED DECISIONS.™ And while we are not experts on infectious disease, we do believe in arming people with good information. Below are some key statistics, information, and resources about COVID-19. After all, "knowledge is your best preparation for a rainy day."[i]
What is coronavirus or COVID-19?
Coronaviruses are a large family of viruses that cause illness ranging from the common cold to more severe diseases.[ii]
COVID-19 is the name of the disease caused by the new coronavirus.[iii]
How does COVID-19 spread?
Person-to-person through close contact (within 6 feet) or through respiratory droplets from coughs and sneezes. Someone who is actively sick with COVID-19 can spread the illness.[iv]
It is still unknown, but it may be possible to get COVID-19 by touching a surface or an object that has the virus on it and then touching your mouth, nose, or possibly eyes.
COVID-19 has not been detected in drinking water. Most municipal drinking water systems use filtration and disinfection that remove or inactivate the virus that causes COVID-19.[v]
Based on other coronaviruses, people infected with COVID-19 should be considered to be contagious from the day of fever onset until 10 days after fever ends, or until laboratory tests show the patient is no longer contagious.[vi]
The specific incubation period (i.e., the period between exposure to an infection and the appearance of the first symptoms) is unknown, but coronaviruses typically have an incubation period of 2‒14 days after exposure.[vii]
What are the symptoms?
Reported illnesses range from mild symptoms to severe illness and death.[viii] Symptoms include:

Fever
Cough
Shortness of breath

Most patients (80%) have experienced mild illness.[ix]
People at higher risk of getting very sick include older adults and people with serious chronic medical conditions like heart disease, diabetes, and lung disease.[x]  The tables below show Utah's population by age group and the prevalence of chronic medical conditions among Utah's adults. From a population health perspective, the rates are relatively low.
Utah's Population, 2018

Source: Kem C. Gardner Policy Institute
Prevalence of Chronic Medical Conditions Among Utah Adults Age 18 Years and Older, 2018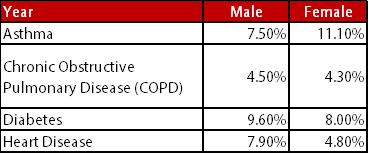 Note: Age-adjusted data. Heart disease includes angina or coronary heart disease, a heart attack or myocardial infarction, and stroke.
Source: Utah Behavioral Risk Factor Surveillance System, Office of Public Health Assessment, Utah Department of Health.
Is there a treatment?
While there is no current cure for COVID-19, most people recover without treatment. Ways to alleviate symptoms include: [xi]
Taking pain and fever medications (do not give aspirin to children).
Use a room humidifier or take a hot shower to help ease a sore throat and cough.
If you are mildly sick: drink plenty of liquids, stay home, and rest.
Call your doctor if symptoms worsen.[xii] Before you go to a doctor's office or emergency room, call ahead and tell them about your recent travel and your symptoms.
Several biopharmaceutical companies are actively working on developing treatments and vaccines. While testing for some of these drugs could begin in a few months, it is unlikely that a treatment or vaccine will be available for at least a year or 18 months.[xiii]
Why is this a pandemic and why are we in a "state of emergency"?
The definition of a pandemic is "an outbreak of a disease that occurs over a wide geographic area and affects an exceptionally high proportion of the population." The definition does not refer to the severity of the illness.
Governor Herbert declared a state of emergency in response to COVID-19 as a preventive measure. It allows the state to access additional funding and resources in advance of a potential outbreak.[xiv]
What should I do now?
Be prepared:
Take steps to protect yourself.
Be prepared to work remotely if you can. Familiarize yourself with virtual meeting platforms and remember to offer a call-in option for meeting attendees.
Take time off work and do not attend public events if you are sick or have been in close contact with those who are sick.
Know the difference between social distancing, isolation, quarantine, and monitoring and think through necessary preparations for each scenario.
Don't forget to take care of your mental health!
Stay informed:
While COVID-19 is scary and real, it's important to remember we have made it through viral outbreaks before. SARS, MERS, and the swine flu are a just a few from recent history and we deal with the flu every year. Staying informed and taking the proper precautions is the best way you can help yourself, your family, and your community.
Laura Summers is the senior health care analyst at the Kem C. Gardner Policy Institute.
[i] Jay Samit.
[ii] https://www.who.int/health-topics/coronavirus
[iii] https://healthcare.utah.edu/coronavirus/#protectingyourself
[iv] https://www.cdc.gov/coronavirus/2019-ncov/faq.html
[v] https://www.cdc.gov/coronavirus/2019-ncov/php/water.html
[vi] https://coronavirus.utah.gov/about-coronavirus/
[vii] https://coronavirus.utah.gov/about-coronavirus/
[viii] https://www.cdc.gov/coronavirus/2019-ncov/about/symptoms.html
[ix] https://www.who.int/docs/default-source/coronaviruse/situation-reports/20200301-sitrep-41-covid-19.pdf?sfvrsn=6768306d_2
[x] https://www.cdc.gov/coronavirus/2019-ncov/specific-groups/high-risk-complications.html
[xi] https://coronavirus.utah.gov/about-coronavirus/
[xii] https://healthcare.utah.edu/coronavirus/#whentoseekmedicalcare
[xiii] https://www.statnews.com/2020/03/02/coronavirus-drugs-and-vaccines-in-development/
[xiv] https://governor.utah.gov/2020/03/06/gov-herbert-declares-state-of-emergency/