By Mallory Bateman
The Intermountain West has a long and rich heritage of indigenous people calling it home. From the pre-Columbian people who lived here roughly 700 to 2,000 years ago to the members of the eight tribal nations whose boundaries currently fall within the state border, these diverse cultures have impacted the statewide population. November is National American Indian Heritage Month, so we wanted to take the opportunity to highlight American Indian people living in Utah.
In Utah, 1.7 percent of the population identified as American Indian or Alaska Native in 2017. Data indicates that those who identify with the Navajo Nation were the largest share of the population, with those identifying with Ute being the next largest share. The populations identifying as Paiute and Goshute are smaller. This detailed information on tribal self-identification can be found in the 2011-2015 American Indian and Alaska Native Tables. These tables are updated every five years, rather than annually. Additionally, these tables are reliant on self-response and may differ from population records kept by tribal governments.
Although Utah is the youngest state in the nation, Utah's American Indian population is younger than the state as a whole. While the statewide median age was 30.3 in the most recent data, the American Indian population was 28.3 years. This young population has seen some recent successes through their high school students, with graduation rates increasing from 65 percent to 74 percent over the past 5 years.
While American Indian reservation lands are dispersed throughout the more rural areas of the state, over half (55 percent) of the statewide population identifying as American Indian lives along the Wasatch Front. Counties outside the Wasatch Front with significant shares of the statewide population include Uintah, Washington, and San Juan. San Juan County is the only county in the state where the most recent Census Estimates indicate that the American Indian population is larger than any other racial group at 49.4 percent of the population.
Utah's American Indian Population and Tribal Lands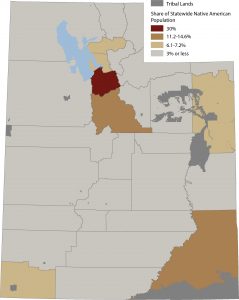 Source: 2012-2016 American Community Survey 5-Year Estimates, Utah AGRC
For more information on the populations living within the Tribal Areas, the Census Bureau has created a tool – My Tribal Area – which provides demographic and socioeconomic information about Tribal Areas across the nation. Locally, we have great resources for more information through the Utah Educational Network and the Utah Division of Indian Affairs. Additionally, PBS is currently airing a series titled "Native America" which examines history through an indigenous lens.
Special thanks to James Toledo, Program Manager at the Utah Division of Indian Affairs for his insights for this blog.
Mallory Bateman is a research analyst and state data coordinator at the Kem C. Gardner Policy Institute.