By: Dejan Eskic
The phrase "labor shortage" isn't new but has reappeared more recently as unemployment rates hit record lows across the country. Job growth continues to thrive, with every sector surpassing its pre-recession peak in Utah. The construction sector has recovered well from its 2011 low, increasing employment by 58 percent. However, it stands out as having one of the lowest growth rates from the pre-recession peak in 2007 to 2018, recovering by less than 1 percent, as shown in Figure 1 and Table 1.
Figure 1: Total Construction Jobs, State of Utah, 2001–2018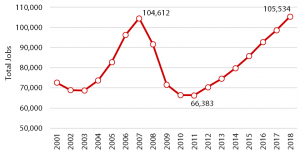 Source: US Bureau of Labor Statistics
It is counterintuitive to our recent experience given the volume of construction activity happening in the state. This slow growth is problematic for several reasons. The state is in the midst of a housing shortage with construction labor as a major contributor. Commercial activity is breaking records as more and more companies find a home in Utah, and several large public infrastructure projects are underway. All of these activities are pivotal to our state's economic success.
In conversations with real estate developers, the lack of available and qualified labor has led to a lengthening of project timelines, adding more costs to an already costly process. Residential building jobs decreased 9 percent from 2007 to 2018, while the number of residential permitted units increased 18 percent. Nonresidential building construction jobs increased 10 percent and highway/street jobs increased 23 percent, as the Salt Lake City International Airport and major road projects have likely taken some qualified labor away from the residential sector. Plumbing and HVAC jobs increased 40 percent and this is the largest and leading sector for job growth in the construction trades.
Table 1: Change in Construction Job by Type, State of Utah, 2007–2018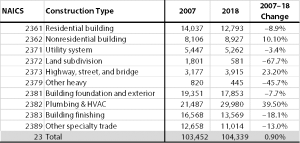 Source: US Bureau of Labor Statistics
Another measure confirms the severity of the labor shortage. Starting in 2012, as building activity picked back up after the recession, for every $1 billion of construction activity there were 17,788 construction jobs. By 2016, this had decreased by 30 percent to 11,060 jobs, a historic low. In 2018, the tight construction market loosened up a bit, but the number of jobs per billion dollars of construction value is still 38 percent lower than in 2012 (see Figure 2).
Figure 2: Construction Jobs per $1 Billion of Construction Value, State of Utah, 2012–2018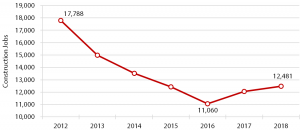 Source: Analysis of Ivory-Boyer Construction Database and U.S. Bureau of Labor Statistics data.
A major bottleneck for Utah's construction industry is the lack of skilled labor. Even though construction volume has recovered since the last recession, construction employment has lagged. Many companies that went out of business never recovered, and would-be new talent is choosing a different profession. Additionally, the expansion of the Salt Lake City International Airport, the building up of downtown Salt Lake City, and the office boom of the Silicon Slopes have all real estate developers, private and public, competing harder for labor than in previous years.
Dejan Eskic is a Senior Research Analyst at the Kem C. Gardner Policy Institute.