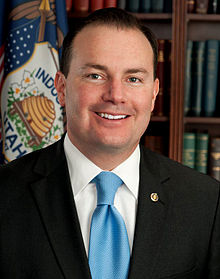 Newsmaker Breakfast: A Conversation with Senator Mike Lee
When: Wednesday, Nov. 9, 2016 8:30am-10:00am
Where: Thomas S. Monson Center, 411 East South Temple, Salt Lake City, Utah 84111
The Kem C. Gardner Policy Institute invites you to its next "Newsmaker Breakfast," a monthly event highlighting current issues impacting the State of Utah. The event will be held in the Ivory Ballroom of the Thomas S. Monson Center. A light breakfast will be served beginning at 8am.
The November Newsmaker Breakfast, to be held the morning after Election Day, will be a conversation with Sen. Mike Lee (R-Utah). Sen. Lee will participate in a public policy discussion and share his views on what is next for Utah and the nation.
Mike Lee serves as the junior senator from the State of Utah. First elected in 2011, Sen. Lee's committee assignments include: the Judiciary Committee, Chairman of the Antitrust, Competition Policy and Consumer Rights Subcommittee, Chairman of the Water and Power Subcommittee of the Energy, Natural Resources Committee, Armed Services Committee, and the Joint Economic Committee. In the 114th Congress, Sen. Lee also began his tenure as Chairman of the Senate Steering Committee.
Please RSVP to economicclubofutah@utah.edu as space is limited.
← All Events